PlayStation Paris Games Week 2017 conference live report
Samurai! Cars! Domestic abuse! Women being hit with hammers! It's your Sony conference. All the action as it happened.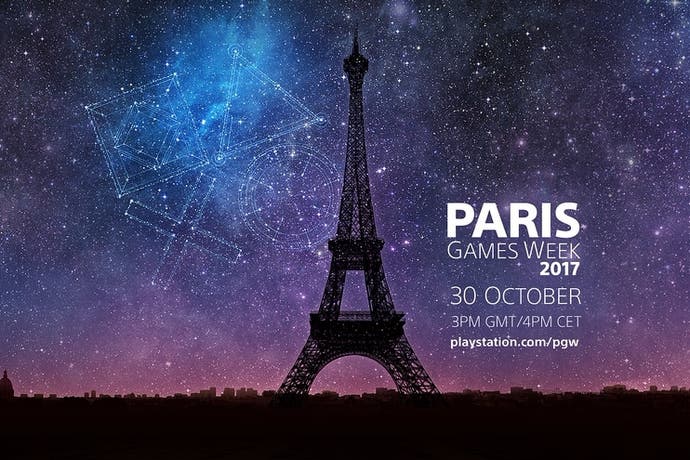 That was a show, wasn't it?
Sony bought the big guns out for its Paris Games Week show, revealing Sucker Punch's new samurai game, the former Driveclub devs' new racer for Codemasters and a load of PSVR announcements. Then there was David Cage's Detroit tackling domestic abuse and The Last of Us 2 going perhaps a bit too grimdark.
All that, and more, as it happened.
Our live coverage of this event has finished.
Well hello, hi or, as they say here in France 'Allo 'Allo! (Knew that GCSE would come in handy some day).
We are here in Paris, about three and a half hours ahead of the event.
In case you don't quite believe that EG has got the budget to send me all the way to Paris and that I am instead - and as per usual with these live reports - watching online in a pair of unwashed Zelda pyjama bottoms as I fester at home or in the dark corner of the office they make me sit in, that there is an actual baguette.
Also some of that smelly Dairylea that comes in small wooden boxes and some slices off a really big Pepperami.
_TheDarkSide_: @Martin. How do we know that baguette didn't just come from Sainsburys? ;-)
Rumbled.
myiagros: Given Sony have the Playstation Experience event in about 5 weeks I am not expecting much from this conference. They tend to save a lot of their biggest announcements for that event. If they were going to announce PS1 back compatibility, and the new Sucker Punch IP I would guess on it being then. I think Dreams and Detroit both have a good chance of being featured today though, given this is a European show, and they have European developers.
I *believe* that this is now Sony's big show - I imagine there'll still be announcements etc at PSX, but this is where the focus very much is.
That said, I'm going in with low expectations.
A release date for Dreams would be nice.
Anything on Dreams would be nice.
Beyond them cancelling it onstage. That wouldn't be nice.
Elsewhere, release date and more details on Detroit, maybe a little something on Dad of War and also a little more on that game with the bikers and the zombies that looks a bit like The Last of Us.
Which probably has a name but I'm quite happy calling it that game with the bikers and the zombies that looks a bit like The Last of Us.
Where else exactly do you put it?
Also it'd be lovely to hear what Sucker Punch has been up to, wouldn't it?
And all that said, I don't think we'll get another look at The Last of Us 2 until PSX. It's a fan favourite, so Sony will want to hold back something special like that for all the fans at that show.
Those are my predictions. They're all guaranteed to be very wide of the mark.
In the shadow of Paris' world famous Arc de triomphe!
There's an hour pre-show - which is what you're getting right now - before the show proper kicks off in an hour.
So I'm in the holding pen, where there's finger food aplenty.
So without further ado, let's play guess the canape!
Seven new game announces, ey? I think there's going to be a slight shove in PSVR's direction tonight, so some of those maybe be related.
stuart79: Mini (raw) chicken burgers
Whatever it is I'm not eating it. I've got that baguette in my pocket still anyway.
spongebob: Hey, are those snacks good? Maybe give them recommended/essential or something, Martin?
I'm going to refrain from giving them a badge, though I'd like to remind people that in no way does that mean they're bad canapes.
Jumping in here while Martin seeks love in Paris! As you've probably seen, Guacamelee 2 was announced.
The Gardens Between was announced, too. It looks like a lovely single-player co-op adventure type game with two characters working together on-screen. Also, you can reverse time! Braid of Brothers?
X201: @lucidmatt Martin doesn't do the pre-show. That's for the little people. He's far too busy with the buffet.
True that. Also it's really hard to hear what's being announced in this from the pen - the team at home will be bringing you the news from the pre-show.
We also got a release date for LocoRoco 2 on PS4. It's out 9th December, with 4K gameplay on PS4 Pro.
lucidmatt: Ha! Well I'm not stuffing my face, so here's some info stolen straight from ResetEra... Guacamelee 2: Announcement Trailer (coming 2018) + Gameplay (Chicken + 4 Player Co-op) The Hong Kong Massacre: Announcement Trailer (coming 2018) The Gardgens Between: Announcement Trailer (coming 2018) Loco Roco 2 Remastered: Announcement Trailer (coming December 9, 2017) Sims 4: Trailer (coming to PS4 in November) Tennis World Tour: Trailer (coming 2018)
Doing god's work. Meanwhile, those wasabi rice things were interesting.
That's Martin videobombing the livestream like the professional games journalist he is.
And, so we're all caught up, Sony announced The Hong Kong Massacre, which looks like Sleeping Dogs meets Hotline Miami. Top down twin stick shooter carnage. Looks super cool!
Sony's just announced two brand new PSVR games: Bound to Blood (fantasy reality TV show with other contestants and enemies, proceedurally generated, airships in VR), and Megalith (a hero shooter. You're a titan trying to become a giant god). Both out 2018.
There was a time when the PSVR montage would have made it into the main conference, but I think this all looks like a lot of fun.
I'm heading in shortly, where I'll be able to keep up to date - sorry for the spottiness covering this pre-show stuff. There's a slew of very interesting PSVR games being announced.
As I'm standing directly behind the pre-show presenters, I can admire how well co-ordinated their outfits are.
Resident Evil 7's free Not A Hero DLC comes out 12th December, Sony's just shown on stream.
Q-Games (PixelJunk, The Tomorrow Children) have a new game out... tomorrow! It's called Dead Hungry, and it's a PSVR zombie game. Looks over the top and very silly indeed.
Stifled is another PSVR game out tomorrow. Sony's clearly getting new PSVR games in this pre-show, which suggests we won't see much of the headset in the main show.
League of War is yet another PSVR game. It looks like a tower defense/RTS game with tanks.
On 21st November, the Final Fantasy 15 fishing PSVR standalone comes out.
It's called Monster of the Deep: FFXV, and the entire boy band is in it.
Right, I'm now in the auditorium like a real professional.
And just in time for the Final Fantasy 15 fishing simulator.
Bloody hell! That Final Fantasy 15: Episode Ignis footage looks nice, doesn't it?
Episode Ignis now has a release date too - December 13th.
Now a rhythm action that's heavily Harmonix-influenced.
Announced at Paris Games Week two years ago, apparently. Though I can't remember it at all.
Out of all those announcements, it's Tennis World Tour that has me the most excited.
How long has it been since the last decent tennis game?
Not that any of them could ever touch the majesty of OG Virtua Tennis.
And here we are with out first announce. A game that looks like a rip-off of both Journey and Ico. Is it Vane?
It's got an impossible to announce title, and is out now.
MrSnakeCake: last decent one was virtual tennis 4 on the Vita
That was also godly.
Oure, it's called. That sails a bit *too* close to Team Ico's games and Journey for my liking, but if you want a look have at it.
Three minutes to go - and one more announce to squeeze in before the main event.
I'm sitting on the second tier of the show floor, above a small bevy of devs who may - or may not - be making an announcement tonight.
There's Capcom's Tsujimoto, Herman from Guerrilla, Abbie from Respawn. Oh and Geoff Keighley.
Before all that though, here's a new game from none other than Mossmouth.
Who made a game called Spelunky. Not sure if you've ever heard of it or not.
End the show now, we're done.
Oh go on then, do a little show seeing as we're all here.
The Eiffel Tower gets a small round of applause.
And we're straight into the meat of it.
This, I believe, is Sucker Punch's new game.
How exciting it is to see them bust out of inFamous for something truly new. They're a great dev.
I do hope we get a subbed version rather than having those awful voice actors.
Ghost of Tsushima. I'm going to have spelled that all sorts of wrong.
Stealth edit. Anyway, I'm going to sit here and go all dewey eyed over Jim Ryan. Just give me a few moments on my own.
What edit? Where? Anyway, isn't Jim Ryan a real meatloaf of a man?
In case you hadn't realised, tonight is all about spoiling Microsoft's Xbox One X party that's kicking off next week.
It's a very childish thing, this games business.
And_Boy: SP Sucker Punch SP Samurai Paris
*mind blown*
A new game from PixelOpus, a Sony studio who previously worked on Entwined.
Which this has some family resemblance to.
It's a charming, heart-warming artsy action game that's just about the most Sony thing I've seen.
And it's called Concrete Genie - out next year.
PlayLink now. This is the mobile companion thing for PlayStation whereby friends can join in using their handsets.
And this is a new game from London Studio - who previously did The Getaway, among other things.
Erica - looks kind of like an FMV choose your own adventure adult drama... thing.
PSVR sizzle time now, with Rec Room, Moss, RE7, Apex Construct and others all taking their time in the spotlight.
It's all enough to shut up PSVR naysayers who say there's no support for the headset, that's for sure.
And another London Studio game - it looks very much like The Getaway is getting a full VR outing.
Well deserved too - this was one of the highlights of the PSVR's initial sketches.
Blood & Truth be its name.
Oooh, Jim's switched sides of the stage. I think he must have clocked me and has now moved to the other side of the room so he can make a faster exit.
Or is this Ghost Recon Wildlands? I really can't tell these games apart.
Nope, it's Far Cry 5, and it has full co-op support.
Some space alien game up now. Never heard of it.
Here's some new Destiny 2 content - Curse of Osiris, coming December 5th, in which you'll head to Mercury to take down some of those angry fax machines known as the Vex.
Monster Hunter: World, aka the best game of 2018, gets a new trailer too.
Hoping to have some more on this for you in the middle of this week. I'm probably allowed to say that I've played it, and it's very, very good.
YESSSSSSS. IT looks like there's some Horizon: Zero Dawn crossover, with an Aloy skin coming to the PS4 version of Monster Hunter World.
Call of Duty World War 2, which is out this Friday. It looks very much like a Call of Duty game.
The Resistance - the first DLC pack for Call of Duty WW2 - is coming to PS4 first on January 30th.
Hang on, what's this? A new Codemasters game?
Could it be Evolution's new game? It's got strong Motorstorm vibes.
Like a cross between Trackmania and Motorstorm. Multi-vehicle mayhem. That'll do nicely.
Something something Star Wars. I'm still trying to work out whether Onrush is what Evolution did next - I'm fairly sure it is.
Confirmed - Onrush is the studio once known as Evolution's new joint. It looks awesome, too.
Detroit looks darker and darker.
I don't know how comfortable I am with infanticide being front and centre of a game like this. It's certainly powerful though.
We're only at the halfway point, and it's kept a very strong pace. I've hardly had time to make inappropriate remarks about executives at all.
Nice to have some light relief after that Detroit section with a father and son mashing the shit out of some monsters.
A release date please? Nothing beyond early 2018, unfortunately.
This'll be Horizon: Zero Dawn's Christmas-themed expansion, a lovely throwback to the Nights Christmas Edition.
A very brief look, that is. We'll be seeing it tomorrow, I believe.
And here's Shadow of the Colossus remake, looking like it's had quite the makeover.
As much as I love the original, it had more than its share of technical shortcomings that even Bluepoint's remaster couldn't shift. This remake is very welcome indeed.
A deserved round of applause for that. And Jim's switched sides again.
And we're about to wrap - that was a very brief conference. Kust one more game to look at now.
It's an exclusive. Could it be The Last of Us 2?
Or that one with the bikes and the zombies?
More importantly, how will we tell which one it is?
I'm going with The Last of Us, for what it's worth.
Someone's arms being broken in graphic detail, an axe is plunged in someone's head.
Coming from a weekend of playing Mario it's all a bit much.
We're waiting for the big reveal. This could still be a trailer for Gran Turismo Sport DLC. Just waiting for a Skyline to bust through the scene in a tick.
Well, you wanted your edgy adult games and you got them.
That looked pointlessly grim. Not the best way to show off one of your big new properties, surely.
Between that and Detroit, I think Sony could do with growing up a bit when it comes to courting more adult gamers.
Anyway, that's that. There's your PlayStation Paris Games Week.
In summary - lovely samurais, lovely car game from the ex-Driveclub team all sprinkled with scenes of domestic abuse and overstated violence.
I can't say I was that impressed with the latter two. I liked the colourful cars though.
That's a wrap for today's show. We'll be seeing some of those games tomorrow and will bring you more throughout the week. Thanks for joining us! I'm going back to the canapes.
Still nothing on Dreams though...