The story behind Black Isle's cancelled PlayStation Planescape game
The From Software effect, generations before Bloodborne.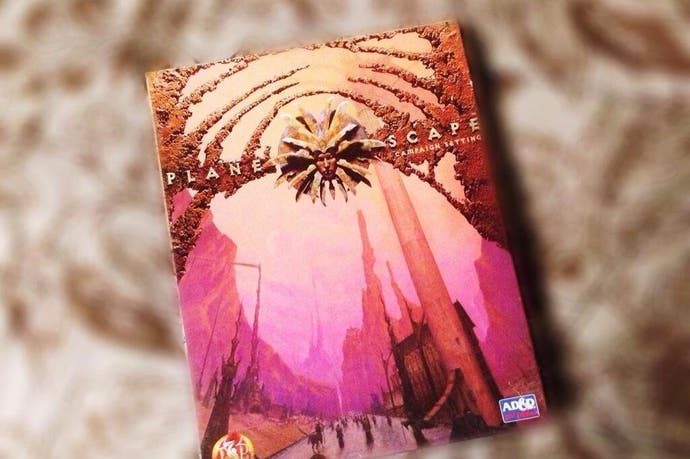 The Souls effect will reach fever pitch this week with the release of Bloodborne, and very important gaming people at lunch around the world will wonder how they can copy it. Feels like a recent thing, given that Dark Souls appeared in 2011 to really kick it all off. But as I discovered, in something of a crypt in London recently, the Souls effect was felt a long, long time ago.
---
It's 1996 and Super Mario 64 has come out, Quake has come out, Tomb Raider has come out. The Spice Girls are only just coming out (I could have worded that differently). Meanwhile, over in America, Colin McComb writes Planescape campaigns for Dungeons & Dragons. But he wants to go to California because there's this girl there. Then he sees his chance.
"Come on out and be the lead designer of this PlayStation game that we're doing with the Planescape licence," a company offers him.
The company turns out to be Interplay, a games company in full bloom; the man offering him a job is Feargus Urquhart, head of subsidiary studio Black Isle (now in charge of Obsidian Entertainment). What Urquhart wanted Colin McComb to make was something a lot like 1994 PS1 game King's Field. You know, King's Field made by From Software. You know, the King's Field series that would inspire Demon's Souls.
"Have you played King's Field?" Urquhart asks McComb in his first briefing. "And I said, 'I have not,'" McComb tells me. "And he said, 'Your first task is to play King's Field.' So they dropped me into an office with a PlayStation and King's Field and then said, 'Get going.'"
King's Field was dark, grim and ruthlessly difficult. But more than that it respected players, treated them like grown-ups who could figure things out for themselves. John Teti had much more to say about the game in our King's Field retrospective.
Brief in hand, McComb got going. It was just him and a programmer in a small office for weeks, months even. He hadn't made a computer game before, only tabletop games, but gradually ideas began to form, and the project known as Planescape PSX was born.
---
-

He can only remember so much, nearly 20 years later, but he does manage to dig out an old vision document for me. McComb isn't sure who wrote it but seems fairly sure it wasn't him.

Remember, it is 1996.

It was going to be a first-person "running through a crypt type thing", McComb summarises - with branching dialogue! It would have real-time combat and, of course, be based in the weird and wonderful Planescape setting of Advanced Dungeons & Dragons.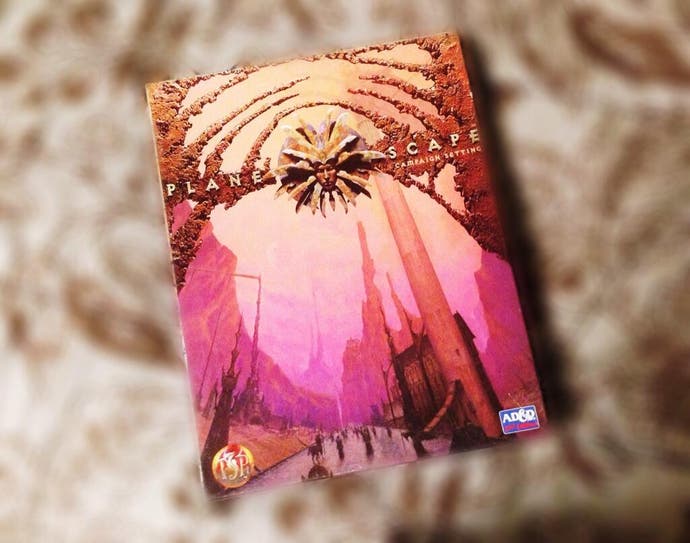 You were going to be able to climb, swim, float or fly to achieve mission goals - even pass through walls. "Warriors," on the other hand, "may simply choose the direct approach and try to kick the s*** out of whatever stands in their way".
Spells and items and powers taken directly from Advanced Dungeon & Dragons would open up to you as you play.
The story would cast you as a lowly enforcer for the Harmonium, the law-people of Sigil, "the guys who believed in order and goodness and tried to keep everybody on the straight and narrow", adds McComb. Sigil is the city connecting all the multiple planes, from which the weird and wonderful come. It's a dirty and dangerous hotpot constantly close to boiling point.
You, as the Harmonium recruit, would go to break up a routine riot in the slums. It's there you'd uncover the deeper threads of a bigger conspiracy. "It turns out this conspiracy led all the way to the upper-planes and the lower-planes," adds McComb, "because there were people in the upper-planes selling weapons to keep the Blood War going.
He adds: "We realised it was total fantasy and there was no way that could ever happen in real life!"
Above all else, Planescape PSX was going to be tough.
"Players will learn things the hard way in Planescape," it concludes, like a marketing slogan. "Planescape PSX will hit back."

---
Six months of work went into it. There was even talk of a sequel.
But before anyone would get the chance to make more than a design document, Planescape PlayStation was scrapped.
"At some point somebody in Mahogany Row said, 'Holy s***! We've got three Planescape games going on,'" McComb recalls. "'This does not make good sense. So let's axe this one and then... We need to do another Stone Keep game so we'll turn the Planescape PC game into Stone Keep, and then this other one we'll just move Colin onto that.'"
I'd have been thoroughly cheesed off. But he wasn't. "Keep in mind that a lot of that time was playing King's Field..." he reminds me with a smile. Also, you know, perspective: "I had other news on that day as well, which was my Granddad had died, and my car was also dead, so I was like, 'OK, well my project is... whatever.'"
The three games Black Isle had in development were Planescape PSX, Planescape PC and Planescape: Last Rites. Planescape PC was being made by Zeb Cook who invented Planescape. Planescape: Last Rites, on the other hand, was being made by Chris Avellone. Ever heard of him?
If you're reading an article with Planescape in the title then of course you've heard of Chris Avellone. He was the lead designer of the Planescape computer game - Planescape: Torment. It was a philosophically deep adventure that still lingers in people's minds 16 years later. And it was Planescape: Last Rites that would become Planescape: Torment - Colin McComb joined Avellone on the project as his number two.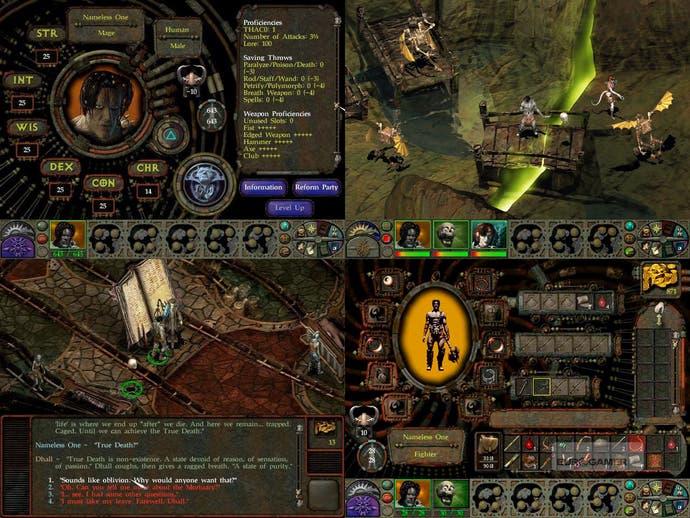 ---
Chris Avellone helped me track Colin McComb down in 2012. I'd connected with Avellone to try and get the old team together for a Planescape: Torment post-mortem podcast, which you should listen to if you haven't - I don't think many people did. Inadvertently, however, I'd set bigger cogs in motion.
After the podcast, Chris Avellone told Colin McComb about a writing job at inXile working on Wasteland 2. That's how, more than a decade later, McComb would find himself working at another company owned by Brian Fargo, who once ran Interplay. That's also, more importantly, how he'd find himself working on another Torment game - Torment: Tides of Numenera.
It's for that new Torment game that Colin McComb is in London, at EGX Rezzed, where we meet. That's the indie-flavoured game show organised by Eurogamer's parent company Gamer Network. If you haven't seen the talk he gave about Torment: Tides of Numenera yet and you're interested in the game - or you like a bit of philosophy and story design - then you should watch the embedded recording of it below. Bet they couldn't do that in 1996.