Photorealistic bodycam game Unrecord gets official trailer, Steam page
UPDATE: Developer shares in-engine development footage, to further prove game is real.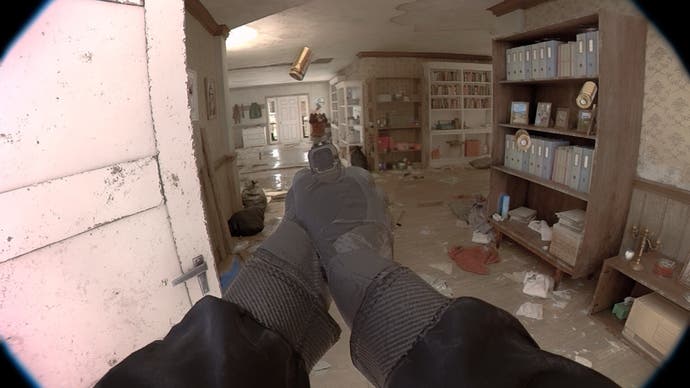 UPDATE 21/4/23: Unrecord's co-creator has released some in-engine development footage, to further prove the game is not fake.
After yesterday's trailer made the rounds, many felt that Unrecord looked too good to be true. Now, Drama's Alexandre Spindler has shared a short clip of Unrecord, showing the game being developed within Unreal Engine 5.
The footage sees the developer manipulating the game's environment before resuming gameplay. Then, once inside one of Unrecord's buildings, the developer proceeds to make more edits to the surroundings.
"For those who thought Unrecord was fake or a video, sorry," Spindler wrote alongside the footage, which you can see for yourself in the tweet below.
The original story continues below.
---
ORIGINAL 21/4/23: Cast your minds back to October last year and you may recall footage doing the rounds of a self-proclaimed "body cam-style" game that looked almost too realistic to actually be real - if you know what I mean.
However, fast forward six months and we now have an official trailer for the game. It's called Unrecord, and comes from a developer known simply as Drama.
Unrecord is described as a "single-player FPS that tells the story of a tactical police officer from the perspective of his body camera". You can see how it looks for yourself below - and its realism makes for slightly uncomfortable viewing.
The developer says Unrecord will see players "work to solve a complex case", and one which will require both "tactical and detective skills to succeed".
Meanwhile, Unrecord's programmer and co-creator has been sharing more insight on the game over on Twitter.
Alexandre Spindler has stated the game is "not a rail shooter or an FMV". Additionally, it is not a VR game, with Spindler stating the gameplay footage shown in the trailer above used a mouse and keyboard. It is also not a scam, something many had raised their concerns about.
"In reality, it seems rather flattering to compare the graphics of Unrecord to reality, but fortunately, we know that a game first focuses on gameplay and universe on which we primarily concentrate," the developer wrote in a new FAQ post.
"Considering the high production costs of a video game and our global reputation at stake, if Unrecord were a scam, it would be a blockbuster scam. Therefore, it is logically not one. We do not use any real videos or external rendering to Unreal Engine for the creation of Unrecord. Unrecord is (un)real."
I often see the question come up, it's not a rail shooter or an FMV, it is indeed an FPS and these images are from real-time gameplay, not pre-rendered. Thank you all for the feedback. https://t.co/YSMwicss6i

— Alexandre Spindler (@esankiy) April 20, 2023
We don't have a release date, or even a release window, for Unrecord as yet. However, the game now has a page up on Steam, so if you are interested you can go ahead and add it to your wishlist.