Race Tracks Unlimited
First Look - build your own motor racing circuit
German developers Westka Interactive made a splash earlier this year when they unveiled The Y-Project, an Unreal-engined action-adventure game. That wasn't the only game they had on show in the Developers Pavilion at ECTS today though - they've also announced a brand new game called Race Tracks Unlimited.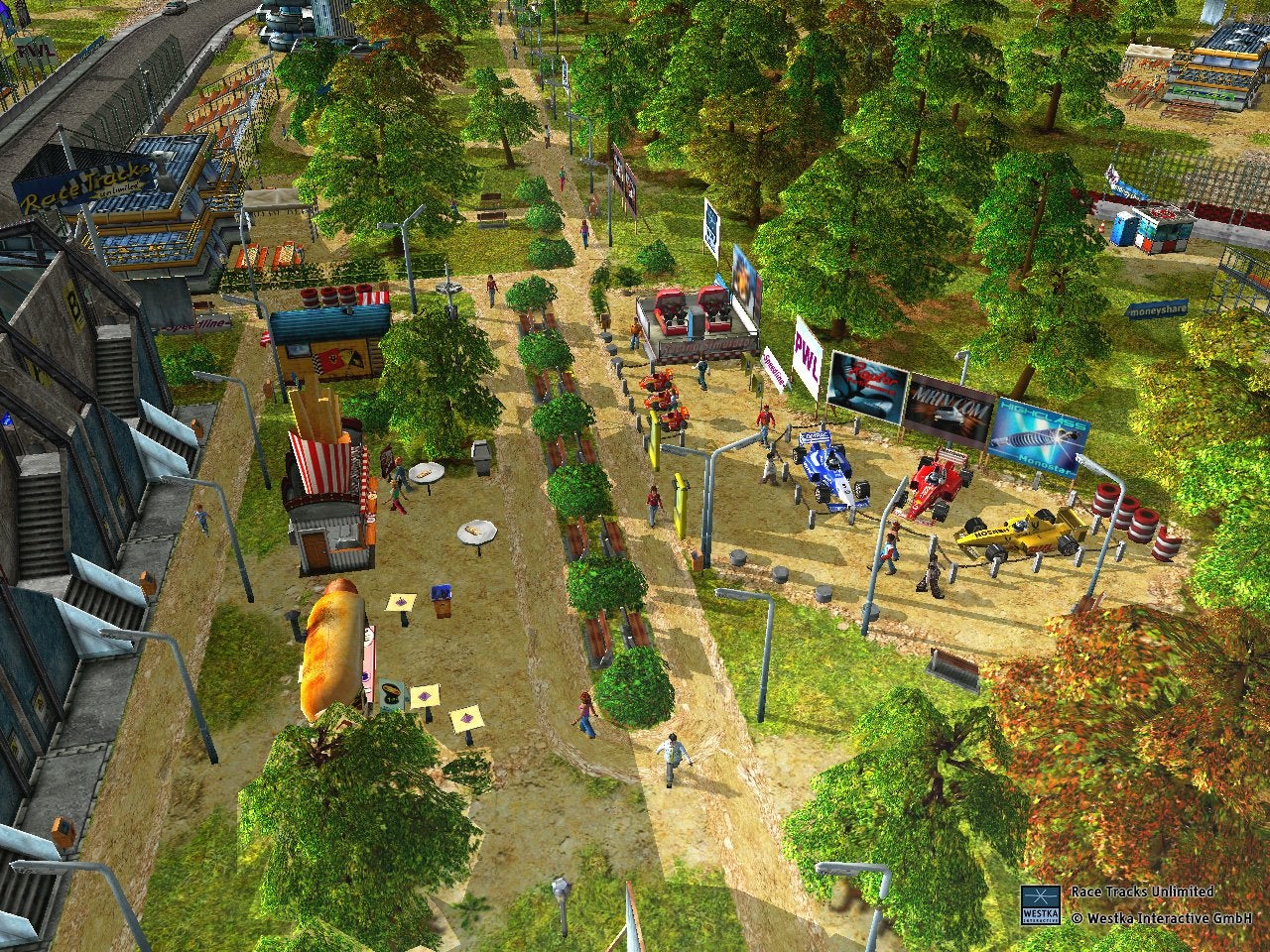 F1 Tycoon?
Race Tracks Unlimited is essentially a management sim that puts you in control of your very own motor racing circuit, letting you design a track from scratch and then add all of the extra features and buildings that go to make up a facility like Hockenheim or Suzuka. These can include anything from fast food stalls and grandstands to a miniature theme park to keep guests entertained between race sessions.
The whole thing is rendered in glorious real-time 3D using Westka's own home made graphics engine, and even at this early stage it's looking very impressive. Little people wander around the paths between polygonal trees, brightly painted buildings dot the landscape and cars whizz around the track (although the detailed physics that Westka are promising us has yet to be implemented). Everything from sports cars to the latest Formula 1 beasts can be found in the game, and as you build up your track to meet the appropriate standards you'll be able to host official FIA and Indy Car races to bring in extra cash. Television cameras can be scattered around the circuit and helicopters used to provide aerial shots, while race organisers may require medical facilities and other functions.
The game is still about a year from release, but the sheer variety of buildings and vehicles already present in the early demo build we saw is promising. Westka also tell us that gamers will be able to groom their own race driver, developing his skills and buying him new cars to compete on your circuit. Although there's plenty of detail for motor sports fans and management freaks to delve into, the developers are aiming to produce a game that is, above all else, fun. Managing director Christoph Kabelitz joked about the German gaming industry's reputation for creating horribly complex micro-management titles that nobody else wants to play, and this is one pitfall they're aiming to avoid.
Conclusion
Judging from what we've seen of Race Tracks Unlimited so far, it looks like Westka could be up on the podium this time next year. The game's graphics are cute and highly detailed, the gameplay sounds promising, and the sheer entertainment factor of designing circuits and track-side facilities is sure to appeal to any self-respecting Formula 1 fan, not to mention those of us weened on the likes of Grand Prix Construction Set. This is a motor racing game with a difference that we'll definitely be keeping an eye on...