Open-source flash emulator hopes to preserve a generation of Flash games
"We'll also be tracking which Flash games are touch screen friendly because they will work on mobile for the first time ever."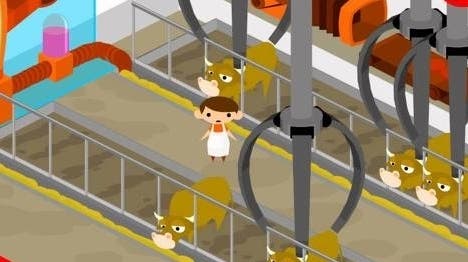 In a bid to preserve a generation's worth of Flash games, a new open-source project hopes to create, and share, a Flash emulator.
The project - which comes just a few weeks after Adobe announced plans to "end-of-life Flash" - hopes to secure a way to play Flash games in your browser via emulation. Mike Welsh, who has previously worked on the Flash-to-HD video converter Swivel for Newgrounds, is currently leading the project.
"Over the past few months Mike has been working on a way to play Flash in the browser via emulation," said an announcement on Newgrounds (thanks, PC Gamer). "We were gonna surprise everyone this fall by suddenly supporting classic content here on NG but it leaked early and the cat is out of the bag. You can see the progress at Ruffle.rs!"
Written in the Rust programming language, the emulator, called Ruffle, is an open-source project that also hopes to create a browser extension that "detects old Flash embed code and swaps it with Ruffle, meaning you could visit any old website and the Flash will (eventually) just work".
Newgrounds itself - a community of artists, game developers, musicians, voice actors, and writers who create and share user-generated content such as gaming, filming, audio, and artwork composition - is going as far as to incorporate the tech in its own website so that it will natively run Flash projects regardless of whether the user has the plugin or not.
"We're adding a true/false attribute to every Flash project to track whether it works in emulation," said Newgrounds staffer and game developer, "TomFulp". "The initial rollout will cover animated content, then gradually expand to cover more and more games. We'll also be tracking which Flash games are touch screen friendly because they will work on mobile for the first time ever."
As Edwin opined when news of Adobe Flash's upcoming demise was first announced, "for many players today, of course, Flash is trash - a rickety plug-in for advergames and obnoxious video pop-ups that has been steadily sidelined by the major browser companies [...] [but i]t's worth a quick refresher on what Flash has meant and means.
"Flash also meant FarmVille, the greatest of Facebook's bucolic time-wasters, and Candy Crush Saga, which made its debut on King.com in 2010. In fact, there was a period when Flash meant so-called "rich" - that's to say, animated and/or interactive - browser experiences full stop."