OnLive UK release date announced
Launches next month at Eurogamer Expo.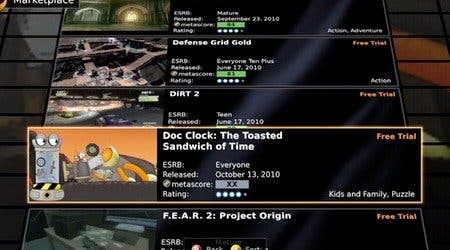 Cloud gaming service OnLive has announced that it is set to launch its UK service on 22nd September at Eurogamer Expo 2011.
It goes live with over 100 "top-tier" games available to try, rent or buy over a broadband internet connection.
OnLive works with HDTVs, PCs, Macs, iPads and Android tablets.
At the Eurogamer Expo 2011, OnLive will hand out thousands of free game systems that work on any HDTV.
"OnLive will utterly transform gaming in the UK," OnLive founder and CEO Steve Perlman said.
"No discs, big downloads or specialised hardware needed. OnLive gives you the latest games instantly, anytime, anywhere on HDTV, PC, Mac, as well as iPad, Android tablets. High-performance gaming as accessible as streaming video, with unique social features such as massive spectating with voice chat and Facebook integration."
UK members have access to the OnLive PlayPack Bundle. Subscribers to this package get unlimited access to a library of more than 70 games, including Homefront F.E.A.R. 3, Borderlands and the original Deus Ex: Game of the Year Edition.
OnLive's working with BT as its exclusive broadband partner in the UK. It plans to expand to other European countries and other continents following the UK launch.
Eurogamer - and especially Digital Foundry - has been skeptical about OnLive's claims of being able to provide high-definition gaming over the internet. Look out for a full review of the service by our technical wizard Rich Leadbetter and much more info on the platform around the time of release.