OneGuide rolling out to select Xbox One users in the UK
TV and DVR control also headed to SmartGlass.
Microsoft will today roll out access to the Xbox One's OneGuide feature for "select" users in Europe and Canada.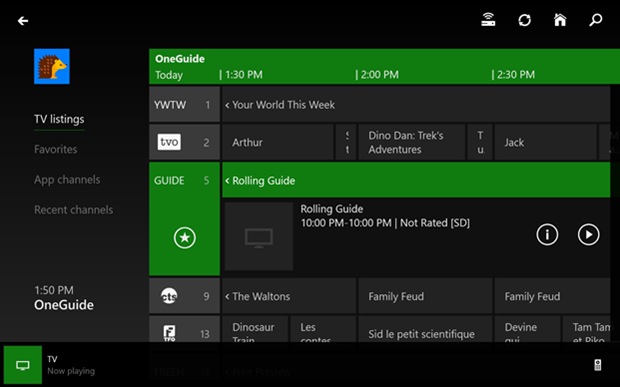 Previously only available in the US, the electronic programme guide allows you to browse upcoming TV content if you have your cable box plugged in.
The same select users will also be able to control their set-top box via Kinect voice commands (a feature already available in the US), a new Xbox Wire post detailed.
New to everyone, however, will be the option to also do this via connected SmartGlass devices, including setting up new recordings and watching content from your DVR.
These features will launch for everyone else "later this year", after Microsoft has gathered feedback from the current few.
Speaking of SmartGlass, recent updates from Microsoft have allowed you to now better sort and access your Friends and Achievements menus, plus snap apps from your mobile.
Another new feature available for all is the option to rent and play films from Xbox Video across platforms. This means you can rent (or buy) a movie and continue your viewing across multiple devices (initially just Windows Phone 8 and XboxVideo.com - other platforms such as Xbox 360, Xbox One and Windows 8 are coming soon).