NyxQuest developer announces isometric voodoo roguelike Full Mojo Rampage
UPDATE: Supports four-player co-op and eight-player competitive multiplayer.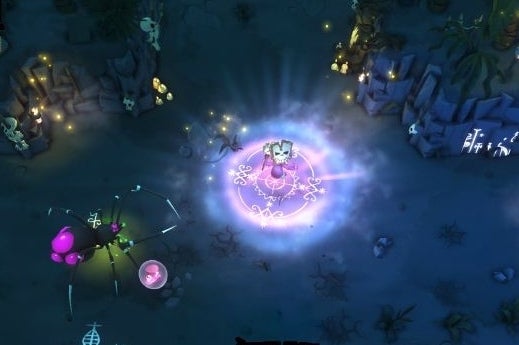 Update: Over the Top confirmed to Eurogamer that Full Mojo Rampage will support four players in co-op and eight in competitive multiplayer, granted these numbers could change prior to release.
"These are not final numbers and we will wait until we do the first open alpha in April and benchmark the multiplayer features of the game," a rep from the studio said.
Original Story: Spanish developer Over the Top - best know for its work on the rather 8/10 WiiWare, PC and iOS platformer NyxQuest - has announced its upcoming action/exploration game Full Mojo Rampage.
Set in a "voodoo reality," Full Mojo Rampage is billed as an isometric roguelike with competitive and co-op game modes. It will feature procedural level generation and NPC gods who are fond of challenging and sometimes tricking voodoo keepers such as yourself.
While Full Mojo Rampage is in development for PC, Over The Top noted on the official site that it will port it to Xbox 360, PS3, WiiU and future consoles "if it makes sense."
Full Mojo Rampage has been in development for one year and is currently in closed alpha. The studio is planning to enter open alpha in April and will grant access to those who pre-order the game for $10 on the developer's site. Over the Top is planning to charge $15 for the final release.