Now Nvidia is making an Android TV console
Shield up.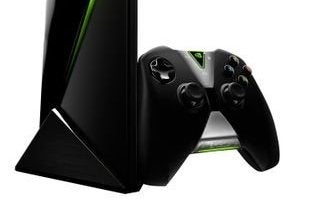 Following in the footsteps of Ouya and Mad Catz, Nvidia is making an Android TV console.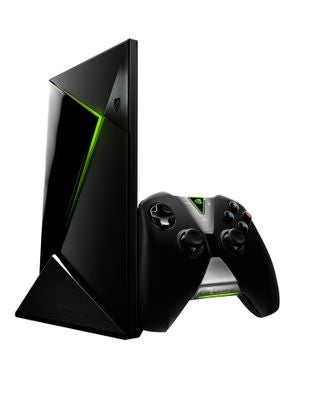 Nvidia's first living-room entertainment device is the new Shield Android TV console, which uses Nvidia's Tegra X1 processor, an Android TV operating system and the Grid game streaming service to produce 4K video content and gameplay at 1080p resolution and 60 frames per second.
The console is sold with the Shield controller, and, Nvidia said, over 50 Android games optimised for Shield will be available to download, including shooters Crysis 3, Doom 3: BFG Edition and Borderlands: The Pre-Sequel.
Console games can be streamed using Grid. Grid carries a subscription and in exchange you get access to 50 games, including Batman: Arkham Origins, Grid 2 and Metro: Last Light Redux. Batman: Arkham Knight and The Witcher 3 are set for Grid later this year.
Shield starts at $199 with a controller and launches in North America in May. The UK will follow in the second half of the year. Additional controllers, a remote control and a stand are sold separately.
Here are the specs:
Processor: Nvidia Tegra X1 processor with 256-core Maxwell GPU with 3GB RAM
Video Features: 4K Ultra-HD Ready with 4K playback and capture up to 60fps (VP9, H265, H264)
Audio Features: 7.1 and 5.1 surround sound pass through over HDMI. High-resolution audio playback up to 24-bit/192kHz over HDMI and USB. High-resolution audio upsample to 24-bit/192hHz over USB
Storage: 16GB
Wireless: 802.11ac 2x2 MIMO 2.4 GHz and 5 GHz Wi-Fi. Bluetooth 4.1/BLE
Interfaces: Gigabit Ethernet. HDMI 2.0. Two USB 3.0 (Type A)2. Micro-USB 2.0. MicroSD slot (supports 128GB cards). IR Receiver (compatible with Logitech Harmony)
Gaming Features: Nvidia Grid streaming service. Nvidia GameStream
Weight and Size: Weight: 23oz / 654g. Height: 5.1in / 130mm. Width: 8.3in / 210mm. Depth: 1.0in / 25mm.