Notoriously impenetrable platform adventures La-Mulana 1 and 2 coming to consoles
Out on Xbox One, PS4, and Switch next year.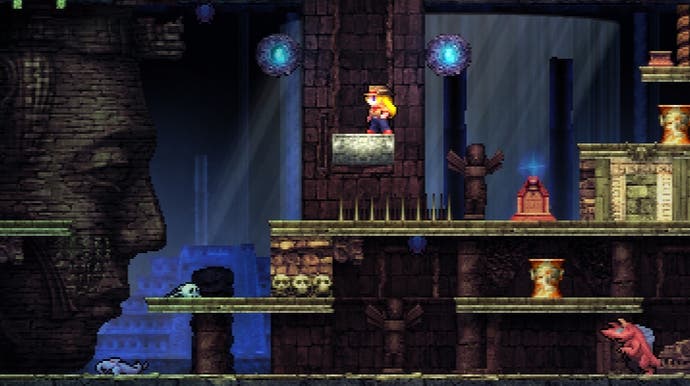 Acclaimed, if notoriously obtuse, Indiana-Jones-esque exploratory platformer La-Mulana and its sequel are being bundled up for a release on Xbox One, PS4, and Switch next year.
La-Mulana began life as a homage to classic MSX-era games, with the original 2005 version only ever officially being released in Japan. However, developer Nigoro eventually rebuild the game from the ground up in 2011, giving it a 16-bit-inspired visual makeover - and it's this better-known version that'll be getting the console treatment, alongside Nigoro's 2018 sequel.
The original La-Mulana casts players as Lemeza Kosugi, a professor of archaeology and occasional whip-wielding adventurer, as he attempts to uncover the secrets of the mysterious ruins of La-Mulana. What follows is an almost entirely open-ended mix of exploration, platforming, puzzle-solving, and boss battling, with players free to approach the game's trap-filled areas and challenges in pretty much any way they choose.
However, La-Mulana's lack of hand-holding, combined with its punishing action, challenging riddles, and some fairly obtuse game design - as befitting of its MSX-inspired origins - means that it's developed a (largely deserved) reputation over the years for being fiendishly impenetrable, as Eurogamer discovered when it reviewed the enhanced PS Vita port in 2015.
The sequel, as you might well imagine, given its Kickstarter origins, offers up more of the same thrillingly bizarre, if not exactly intuitive action, only this time charting the adventures of Lemeza's daughter, Lumisa, as she searches for her missing father among vast ruins.
La-Mulana 1 and 2 will come to Xbox One, PlayStation 4, and Switch as a two-game collection subtitled the Hidden Treasures Edition. There's no specific release date as yet, but publisher NIS America says to expect its arrival in "early 2020".