Nintendo to add Wii U Karoke app warning after swearing complaints
That don't impress Mii much.
Nintendo will add a number of new warnings to Wii Karaoke U after complaints at the explicit lyrics found within some songs.
The Wii U app allows users to sing along as their Mii avatar to hundreds of tracks - none of which are censored or changed from their original versions.
Nintendo told Eurogamer today that it was acting immediately to add a warning to the game's eShop page which would display prior to the app being downloaded.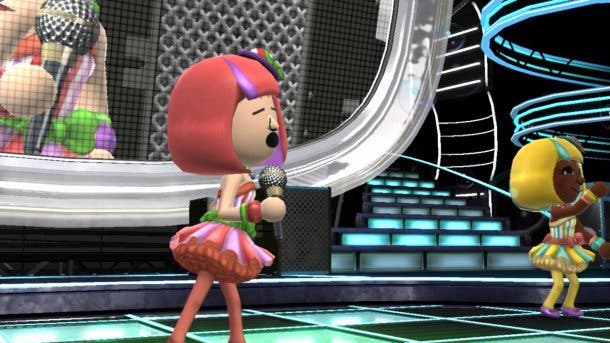 The warning will also be shown whenever players are about to purchase an access token, the time-based tickets which unlock the app for play.
A further warning will be added to the app itself in the near future, which will be shown when Wii Karaoke U is launched.
Nintendo's full statement on the matter lies below.
"Wii Karaoke U by Joysound is intended to provide users with access to a large catalogue of songs from a broad range of music labels across a variety of musical genres - designed to appeal to all music tastes," Nintendo explained. "As such Nintendo does not restrict which songs are included in the catalogue of songs featured within the Wii Karaoke U by Joysound application.
"We are aware that some songs contain explicit lyrics and deal with adult themes which some audiences may find unsuitable. As such the Wii Karaoke U by Joysound application currently includes a notice which informs users that music downloads are not rated by PEGI. Wii U owners also have the tools to restrict access to the song catalogue using the Parental Controls feature (Online Interaction in Games). For more information on Parental Controls please visit www.nintendo.co.uk/Support/Wii-U/Parental-Controls/Overview-678628.html
"It is however very important to us that all users of Wii Karaoke U by Joysound understand that some lyrics contained within songs may not be suitable for all audiences and as such we will immediately be implementing an additional message within the Nintendo eShop (prior to downloading the application and ticket purchase) as well as on the Wii Karaoke U by Joysound website pages. In the near future this message will also be incorporated within the notification that is displayed as the Wii Karaoke U by Joysound application is launched."