Nintendo confirms SNES mini, including never-released Starfox 2
UPDATE: Amazon UK has more stock, £10 cheaper.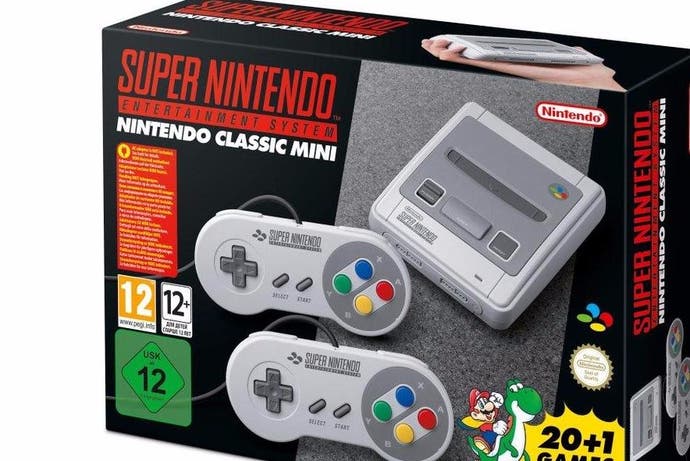 UPDATE 4:15pm: Amazon UK has just added a fresh round of stock and now price-matched Nintendo UK's lower £69.99 price - £10 cheaper than yesterday's initial lot.
---
UPDATE 3:55pm: And they're gone. Nintendo's official UK store has sold out of SNES mini in just 24 minutes.
---
UPDATE 3:30pm: Nintendo's official UK store has now put its pre-orders live, at the slightly lower price of £69.99. Get in there while you can.
---
UPDATE 11.05am: Good news, cable fans. Nintendo has confirmed that the SNES mini's controller cable is five feet long, up from the NES mini's too-short three feet.
Controller cable length was a common complaint among NES mini owners - and thankfully one which shouldn't be repeated.
"The controller cable on the Nintendo Classic Mini: SNES controller is approx. five feet long, which is about two feet longer than the cord on the Nintendo Classic Mini: NES controller," a Nintendo spokesperson confirmed to Eurogamer.
---
UPDATE 27/6/17 8.45am: It's the morning after the night before - when Amazon UK's SNES mini stock allocation went in minutes. GAME and Smyth's are out of stock, too. So, where can you pre-order now?
You can try your luck in store at a bricks-and-mortar GAME shop. You can put down a pre-order there, but you'll need to pay a £10 deposit. You'll also need to sign up for a (free) reward card.
Perhaps your best chance is to sign up for notifications at Nintendo UK's official store when it gots stock in, so you can buy it direct from the source.
We'll keep an eye out if the SNES mini goes up for pre-order anywhere else. There's no word yet on whether any of the above retailers will get additional stock in.
---
UPDATE 11:00pm: It looks like Nintendo is planning to stock a lot more of these than it did the infamously limited NES Mini.
"We aren't providing specific numbers, but we will produce significantly more units of Super NES Classic Edition than we did of NES Classic Edition," Nintendo said in a statement to USgamer. "Super Nintendo Entertainment System: Super NES Classic Edition is currently planned to ship from 29th September until the end of calendar year 2017. At this time, we have nothing to announce regarding any possible shipments beyond this year."
---
UPDATE 6:40pm: UK Pre-orders for the SNES mini are now live at GAME.co.uk, priced at £79.99, Smyths priced at £69.99, or Amazon UK once again priced at £79.99 (Prime members pay £77.99).
---
ORIGINAL STORY 5:40pm: Nintendo has confirmed the SNES mini, which Eurogamer first revealed word of back in April.
SNES mini - officially titled the Nintendo Classic Mini: Super Nintendo Entertainment System - will launch in the UK on 29th September.
The microconsole will again launch with 21 games pre-loaded onto the system - including the never-released Starfox 2. Classics such as Super Mario World, Donkey Kong Country, F-Zero and Legend of Zelda: A Link to the Past are also included.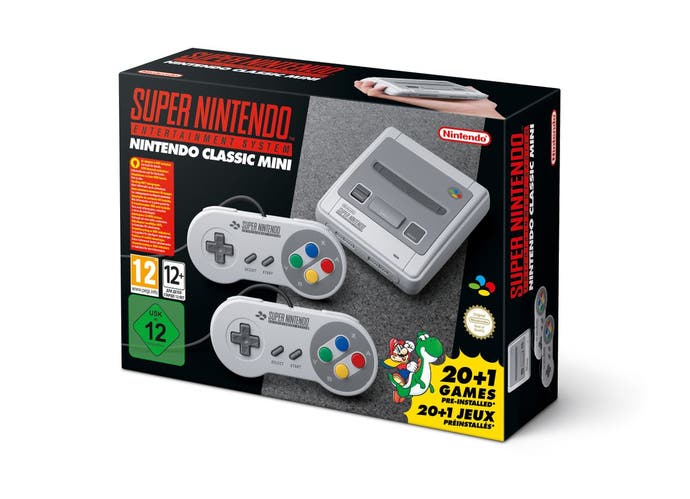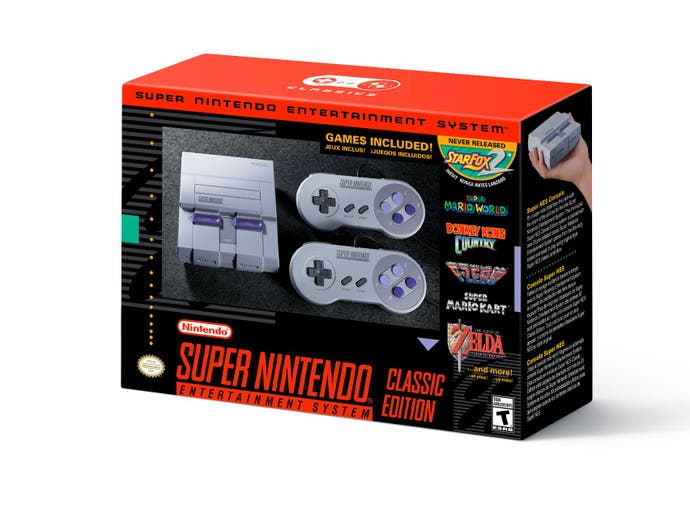 Two controllers will be included in the box, but you'll need an AC adaptor to use its USB plug.
For Star Fox 2, never released before anywhere, you'll need to complete the first level of the original Star Fox to unlock the game.
The full list of games included with the SNES mini in Europe lies below:
Contra III: The Alien Wars
Donkey Kong Country
EarthBound
Final Fantasy III
F-Zero
Kirby Super Star
Kirby's Dream Course
The Legend of Zelda: A Link to the Past
Mega Man X
Secret of Mana
Star Fox
Star Fox 2
Street Fighter 2 Turbo: Hyper Fighting
Super Castlevania 4
Super Ghouls 'n Ghosts
Super Mario Kart
Super Mario RPG: Legend of the Seven Stars
Super Mario World
Super Metroid
Super Punch-Out!!
Yoshi's Island
Its arrival follows the sold-out success of the NES mini, shipments of which could never meet the larger-than-expected demand for the system. Many units were snapped up and then sold on eBay.
Hopefully Nintendo will increase its shipment size for the SNES mini - and keep it stocked longer than just until Christmas.