Nintendo 3DS XL UK price round-up
UPDATE: GameStop to match GAME trade-in deal, includes older DS variants.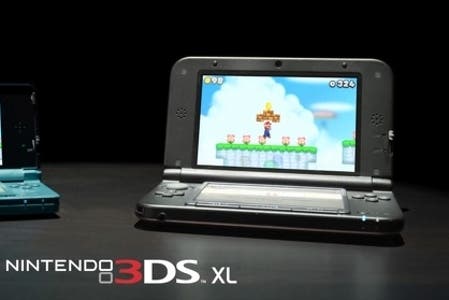 The cheapest place in the UK to buy a 3DS XL this weekend will be at Asda. The supermarket giant is planning to sell Nintendo's shiny new handheld for just £169.99.
Nintendo will release the 3DS XL in the UK on 28th July - yes, that's a Saturday. Tesco will offer the device for £175, while HMV, GAME and Gamestation are trading at £179.99.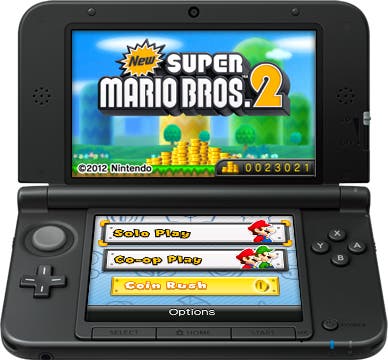 GAME has a trade-in deal where you can secure a 3DS for just £79.99 when you trade-in an old boxed 3DS model. You even get 24 hours to take your new 3DS XL home and perform a system transfer to save all of your data. The deal lasts until 9th August, and costs no more than GAME's standard price-point: £179.99. You even get a new AC adaptor, too.
GameStop has announced it will match GAME's trade-in deal, and will also offer lesser amounts for older DS variants. It'll send you a box to return your old 3DS, DSi XL or DSi in, with varying trade-in amounts for each device. You also get a free charger.
HMV is offering a number of bundles. You'll be able to pick up a 3DS XL in store for £179.99 with a free charger, or £199.99 with either Kid Icarus: Uprising, New Art Academy, Super Mario 3D Land, Mario Kart 7, or Mario Tennis (thanks Twitter beard/HMV employee Gav Murray).
Elsewhere on the high street, Morrisons and Sainsbury's were unable to provide Eurogamer with a 3DS XL price when contacted. The chains will likely have more information nearer this Saturday's release date.
Online, the cheapest place to buy a 3DS XL is at the virtual version of Sainsbury's. The supermarket's online base price is £179.99, but you should be able to whittle that down to £161 with the voucher codes SETENJ12 or SECOSMO. You'll have to sign up for a new account to unlock the offer, however.
Otherwise, sister sites Zavvi and The Hut are offering the best no-voucher price, at just £167.95 for the handheld.
It's worth remembering that the 3DS XL does not come with an AC charger or cradle - so you can use your existing DSi/DSi XL/3DS charger instead. Unless you don't have one - then you'll have to snap one up separately.
As always, prices and deals can change, and quickly. All information is correct at the time of going to press, but if you spot anything different - or a deal worth telling others about - let us know in the comments below. We'll keep this article updated throughout the week.
Bricks and mortar shops
Asda - £169.00
Tesco - £175.00
HMV - £179.99
GAME/Gamestation - £179.99
Sainsbury's - £TBA
Morrisons - £TBA
Online