Next Xbox update changes the home menu, Guide, and community feed
Alpha out now for Insiders.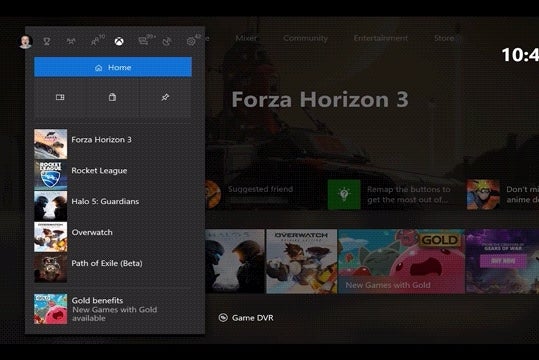 The latest Xbox One update is now live for participants in the Xbox Insider Programme's alpha ring.
As detailed on the Xbox News Wire, this new update radically changes the home menu, so its default page now displays options for resuming your last game, adding a suggested friend playing the same games as you, remapping your button layouts, and checking out limited time offers on the marketplace.
There's also a "my games" option in the lower left corner, letting players instantly access their full library. Next to that is a row of recently played titles and apps.
You can also choose what content blocks you want on your feed, i.e. what games and people you'd like to follow.
The Guide has changed too, now offering more tabs within tabs to quickly and conveniently keep track of things like which friends are online and what they have in their profile. The new Guide also has horizontal tabs coming from the top of the screen, like most computers, and you can swiftly switch between these with the bumpers.
The community page has also been revamped with a new Activity Feed layout that shows what your friends and other folks are doing in the games you've been playing. This way you can easily find footage of whatever strikes your fancy and check out what Achievements your friends have acquired.
Further tweaks will be made as Insiders offer feedback. This update is planned to go live for all in the coming months.