ECTS 2003: Ubi Soft dominates Awards
Five stars for the French publisher, while Vice City has a quiet one.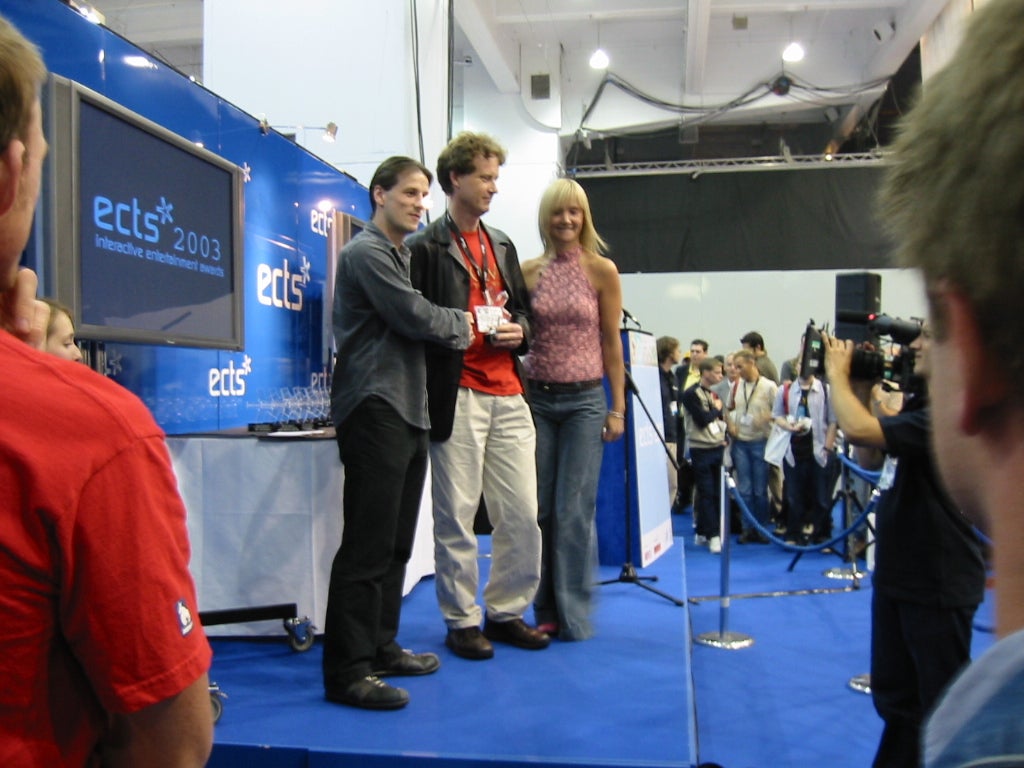 French publisher Ubi Soft has staggered away with five ECTS Awards here at Earls Court, including Best of Show Awards for PC, console and overall. The awards were hosted by TV journalist and self-proclaimed technophile Kate Russell, who made the mistake of suggesting that the producers of Eurovision would "eat their hearts out" if they were here. We were certainly gnawing at various body parts with each passing comment.
Still, once Kate stopped wrong-footing European award presenters with quick-fire questions and adlibbing, the whole thing went quite smoothly, with footy favourite Pro Evolution Soccer 2 picking up Game of the Year for the UK – its sequel is certainly quite popular this year – and Ubi Soft picking up the first of many accolades from gamers in Germany for Tom Clancy's Splinter Cell. Elsewhere on the continent, the French and Scandinavians both celebrated Battlefield 1942, and Italy tipped its hat to Rockstar's Vice City.
The only other award the world's most popular game picked up was The Loaded Award for "most relationship-destroying game of the year," or thereabouts. However there were awards for popular newcomers EyeToy (The Times Award), Viewtiful Joe (The Edge Award) and Shuttle (The PC Format Award), who make stylish small form factor PCs. Also on the PC front, Total War developer Creative Assembly deservedly picked up the PC Gamer Award for best developer. With their latest project, Rome: Total War, now forming a key part of the BBC's Time Commanders programme, the good times look set to continue for them.
Also on the PC (or at least part of it), ATI's Radeon 9800 Pro picked up PC Hardware of the Year, while Microsoft's most exciting current piece of hardware – the Xbox, obviously – perhaps surprisingly waltzed off with Console of the Year. Certainly surprisingly, Publisher of the Year went to... Nintendo! Some might say it's a good thing there's no 'minimum published games' requirement for that one.
Finally we come to the awards picked by the press panel, a group of anonymous journalists from all walks of the industry, and it was at this point that Ubi Soft really started to clean up. Although Nintendo scooped their second with Best Handheld Game for Advance Wars 2, and Half-Life 2 (remember that?) collected The London Games Week Award, Ubi Soft made off with Best PC Game (Far Cry), Best Console Game (XIII), Best Online Game (Everquest II) and Best Overall Game (XIII), and even managed to pull out a different representative to collect each one. And having supporting the show so strongly for many years – throughout its periods of decline – perhaps they deserved their moment in the spotlight.
Voted for by readers or the editorial teams:
Game of the Year UK, in conjunction with Gamer.tv – Pro Evolution Soccer 2, Konami
Game of the Year France, in conjunction with JDLI – Battlefield 1942, EA
Game of the Year Germany, in conjunction with Gamigo.de – Splinter Cell, Ubi Soft
Game of the Year Italy, in conjunction with Game Live – GTA: Vice City, Rockstar
Game of the Year Scandinavia, in conjunction with Manual – Battlefield 1942, EA
Voted for by the editorial teams:
The PC Gamer Best PC Games Developer Award – Creative Assembly
The PC Format Best New Games Kit Award – Shuttle for Small Form Factor PCs
The Edge Award – Viewtiful Joe, Capcom
The Loaded Award – GTA: Vice City, Rockstar
The Times Award – Sony EyeToy
Voted for on www.ects.com:
Best Console of the Year – Xbox
Best Publisher of the Year – Nintendo
Best PC Hardware of the Year – ATI Radeon 9800 Pro
'Best of Show' Awards (voted for by press panel):
Best PC Game of the Show – Far Cry, Ubi Soft
Best Console Game of the Show – XIII, Ubi Soft
Best Handheld Game of the Show – Advance Wars 2: Black Hole Rising, Nintendo
Best Online Game of the Show – Everquest II, Ubi Soft
Overall Best Game of the Show – XIII, Ubi Soft
The London Games Week Award – Half-Life 2, Vivendi