Xbox 360 hits Europe Dec 2nd
US: Nov 22, Jap: Dec 10.
Xbox 360 will launch in the USA on November 22nd, in Europe on December 2nd and in Japan on December 10th, Microsoft announced today at a press conference in the Shibuya district of Tokyo. The Japanese version will cost 37,900 yen - around £180. Europeans will pay £209.99 or £279.99 depending on their choice of bundle, as previously announced.
Interestingly, while Xbox 360 will be released in two packages in the US and Europe (a bare bones "Core System" and a more expensive version packing in hard disk, media remote, wireless controller and other extras), there will only be one version in Japan and it will include a hard disk - something Xbox Japan president Yoshihiro Maruyama said was thanks to the country's advanced broadband infrastructure.
The American and European launch line-ups have yet to be revealed, but the Japanese will be able to buy seven games on December 10th - Ridge Racer 6, Dead or Alive 4, Frame City Killer, Ghost Recon Advanced Warfighter, (eM)-eNCHANT-arM, Tetris: The Grandmaster Ace and Everyparty (the party game directed by Yoshiki Okamoto's Game Republic studio) - with six more on the schedule for January. Microsoft hopes to have as many as 20 out by the end of January.
Beta testing of Final Fantasy XI will also begin in Japan before the end of the year.
Interestingly, Project Gotham Racing 3 was among the second tier of titles - but we expect that simply means it's due out in Japan in January, as Bizarre Creations' Gareth Wilson said the game was still aimed for launch when we spoke to him earlier on Thursday in Tokyo.
Earlier in the presentation, Maruyama-san outlined Microsoft's plan for the Tokyo Game Show. Centred around a 360-inch screen, the stand will have 80 console pods. Ninety-Nine Nights, Ridge Racer 6 and Need For Speed: Most Wanted are among the titles that were confirmed as playable. The full list of games on display can be found lower down the page - and press literature notes that FromSoft will announce two more titles at TGS tomorrow.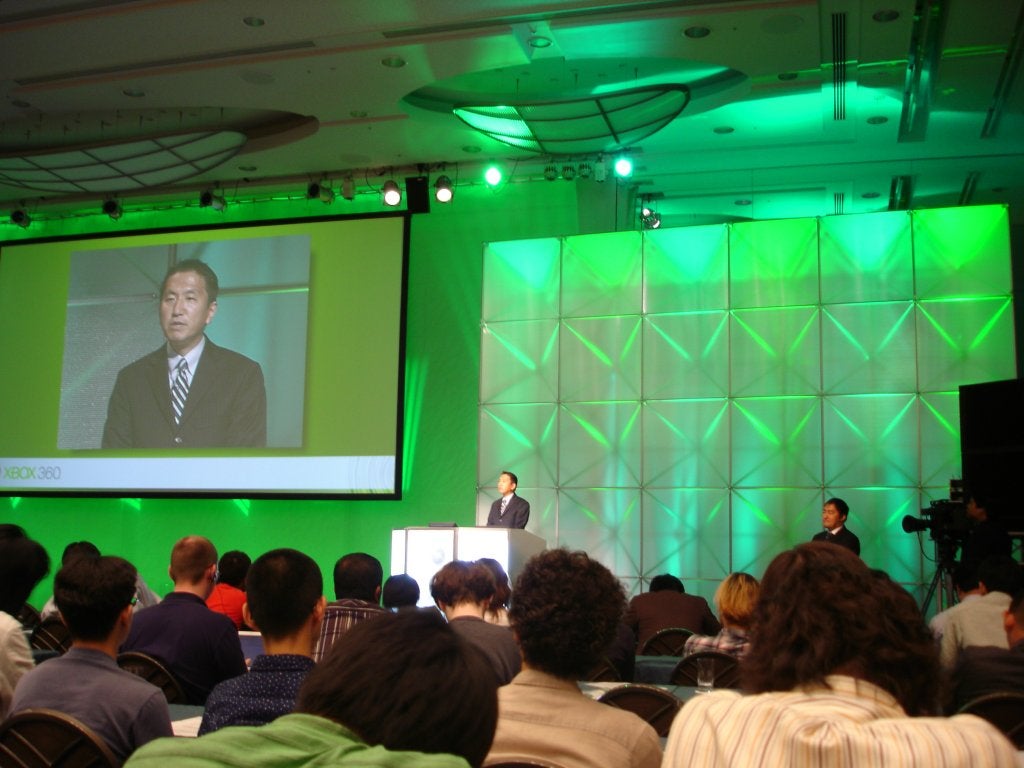 Epic Games' Cliff Bleszinski also took to the podium to introduce Gears of War via a translator, before Phantagram CEO SangYoun Lee played through a section of Tetsuya Miziguchi/Q Entertainment's Ninety-Nine Nights, and attendees were treated to a montage of game and rendered footage from various titles.
Maruyama-san then went on to discuss the importance of Japan to Xbox 360, and the company's plan to launch the majority of the more-than-100 Japanese games in development by the end of next year. "Japan really is the key important territory for the global strategy we have," he said. "We have a very strong commitment to succeed." Over 200 games are in development for Xbox 360 worldwide, he said.
At the end of his presentation, Maruyama-san opened the floor to questions. Although he was unwilling to discuss shipment figures, targets or expectations (other than to say Microsoft wants to succeed and hopes gamers will be given the chance to see what it's up to), he did clarify that the company has no plans to release the Core System in Japan at the moment but added that it may happen in future.
Microsoft's full Xbox 360 line-up for the Tokyo Game Show (some playable titles TBC):
(eM)-eNCHANT-arM (FromSoft)
Bomberman - Act Zero (Hudsonsoft)
Call of Duty 2 (Activision)
Chromehounds (SEGA)
Dead Rising (Capcom)
Dynasty Warriors 5 Special (KOEI)
Everyparty (Microsoft)
Final Fantasy XI (Square Enix)
Frame City Killer (Namco)
Gears of War (Microsoft)
Kameo: Elements of Power (Microsoft)
Mobile Suit Gundam (Bandai)
Need For Speed: Most Wanted (EA)
Ninety-Nine Nights (Microsoft)
The Outfit (THQ)
Project Gotham Racing 3 (Microsoft)
Resident Evil 5 (Capcom)
Ridge Racer 6 (Namco)
Rumble Roses XX (Konami)
Shutoku Battle (Genki)
Sonic the Hedgehog (SEGA)
Saint's Row (THQ)
Test Drive Unlimited (Atari)
Tom Clancy's Ghost Recon Advanced Warfighter (Ubisoft)
World Air Force (Taito)
Wrestle Kingdom (Yuke's)