EG coder misses out on Sexiest Gamer crown
His wife reckons he should have won.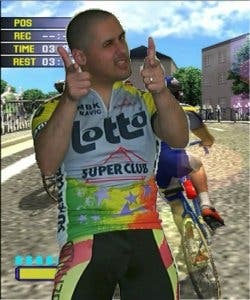 Eurogamer's Daren Chandisingh has narrowly missed out on being named the UK's Sexiest Gamer, as Gamer.tv this week concluded its nationwide search for the sexiest guy and gal in gaming. After two months, 1,000 submissions and something like 4.7 million votes cast, TV presenter Vernon Kay crowned the winners at The Institute of Contemporary Arts in London on Thursday, following a day of gruelling tests to weed the Angels of Darkness out from the Princes of Persia.
"All Gamer.tv's finalists have been great fun today, and they really know their Mario Karts from their Halos," Kay confirmed. "In the end, it really was the sexiest gamers that won." Those sexy gamers being 18 year-olds Rachel Doherty from Northern Ireland, and Sid Knuttson, a stuntman from, er, Stockholm, Sweden, who both win a free holiday to Hollywood.
But the real surprise was Eurogamer's Daren, who somehow managed to find his way into the final five on the merits of the above picture alone, only to slip at the final hurdle. "Do I look like a horse?" an indignant Daren fumed this morning. "Maybe that's why I didn't win."
It all could have turned out so differently. When it became clear Daren was in the running to win, he called upon friends and family for advice, and quickly developed a routine guaranteed to convey both his qualities as a gamer and his delectable assets. "I followed a carefully planned diet of cream buns and Pepsi," he told Eurogamer in an exclusive and contractually enforced interview today. "I regimentally avoided going to the gym, just in case I lost my cuddliness. Ultimately cuddly didn't do it." Perhaps due to a lack of research - when asked who he felt was his favourite Care Bear, the 35 year-old father-of-two was at a complete loss. "Whichever one was coolest," he lied enthusiastically, "that was my favourite!"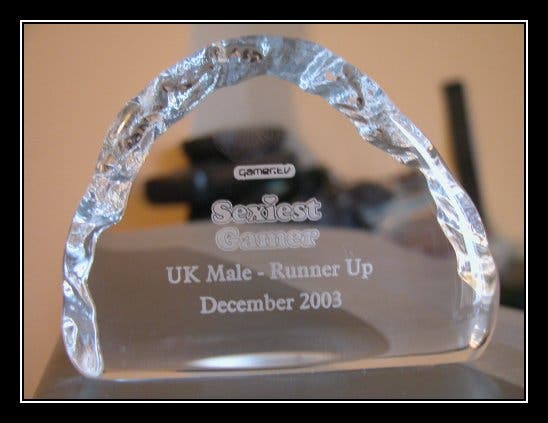 However it's clear that why ever Daren lost, the competition was fair and well balanced, geared towards outing charlatans - normal people with pretty faces and nice bums - who may have penetrated the otherwise geeky exterior. "There was a 20-question multiple choice test that we all had to complete," Daren recalls. "Questions ranged form 'what colour is Sonic the Hedgehog?' and 'what symbol doesn't appear on a PSX control pad?' to 'what does SEGA stand for?' and 'which game creature says Zug Zug?'" In a series of one-on-ones, where "different people were asked different things by the panel. Like generic 'what's your favourite game and why?' stuff, and 'what was your best gaming moment/achievement?'"
Daren also had some kind words for Vernon Kay, who "really knows his games". "He's a bit tall. I was wearing inch-and-a-half heels ["Not effing stilettos!", he adds later, rather unconvincingly] and he still towered over me." Did you punch him? "No, I didn't punch him. Uncool as it may be to say, I thought he was a good bloke. And he knows his games."
So, Sexiest Gamer. Triumph, farce, or pointlessness incarnate? "It was a good laugh. I've made some new friends so I got something out of it. Gamer.tv got shitloads of website hits, so I guess it's a triumph for them. And I got a glass paperweight too!" So you did.
Gamer.tv's search for the Sexiest Gamer in the USA concludes later today.