New Japanese and Aussie SP promos
Japanese gamers to benefit from GBA SP shell swap scheme, while Australians get a surf-sponsored handheld.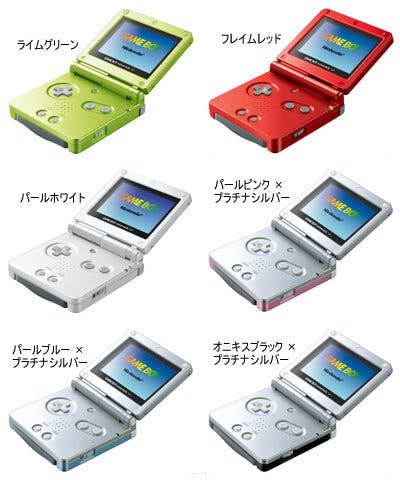 Nintendo continues to promote the Game Boy Advance SP like... like a product that it manufactures and wishes to sell... with new marketing gimmicks in Japan and Australia geared towards boosting brand awareness, keeping people interested, and, above all else, selling the little fella in ever-increasing quantities.
The first of these new efforts forms part of the Club Nintendo promotion for Japanese gamers. Like our Stars Catalogue, folks earn points buying games, and from February 19th for 600 points they will be able to send their GBA SP console home to Nintendo, who will refit it in a brand new colour shell. There are six options - Lime Green, Flame Red, Pearl White, Pearl Pink/Platinum Silver, Pearl Blue/Platinum Silver, and Onyx Black/Platinum Silver - all of which are new to Japan (and should be visible to the left).
Meanwhile in the land down under, Nintendo has agreed a promotional arrangement with the Rip Curl surf company, which will see them not only sponsor the 2004 Rip Curl Pro surfing competition, but also produce a limited edition Rip Curl GBA SP console for Aussie gamers and surf shops. Rip Curl's Neil Ridgeway said the company was "stoked to have Nintendo on board", adding that "half the staff are fighting over the office Game Boy as I speak!" Short sharp blows to the neck, Neil. Never fails.