Apple logo on PS3 website
But before you get excited...
Here's one for the weekend: why does an Apple logo appear on the Sony PlayStation 3 website?
It's not just in the footnote either - as you can see from the screengrab on this page (look closely), it appears smack bang in the middle of the PS3 unit at http://www.us.playstation.com/PS3.
It doesn't remain there though, and perhaps that's why it's gone unnoticed. A reader called BeadlesClaw sent us a note earlier advising us to load the page and then watch it closely.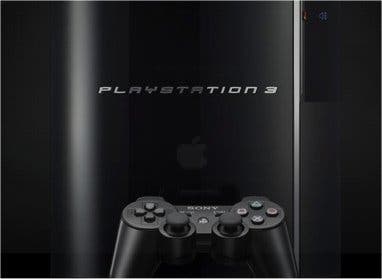 Sure enough, Apple's unmistakable logo appears ever so briefly nestled between the PlayStation 3 logo on the unit and the pad below, and then disappears. Many printscreen buffers died to bring you this information.
We asked Sony what it's all about, but nobody had a clue.
So why's it there? Well, before you cry conspiracy...
According to Top Men we know, the Apple logo is part of a video playing in the background with a PlayStation 3 overlaid.
"I'd imagine whoever made that flash is the same agency that did something for Apple," our Top Man suggested, "and they haven't reworked the video effect properly."
We await a proper official explanation.