£99 Mario Kart Cube bundle
Includes four-and-a-bit-game Zelda bonus disc!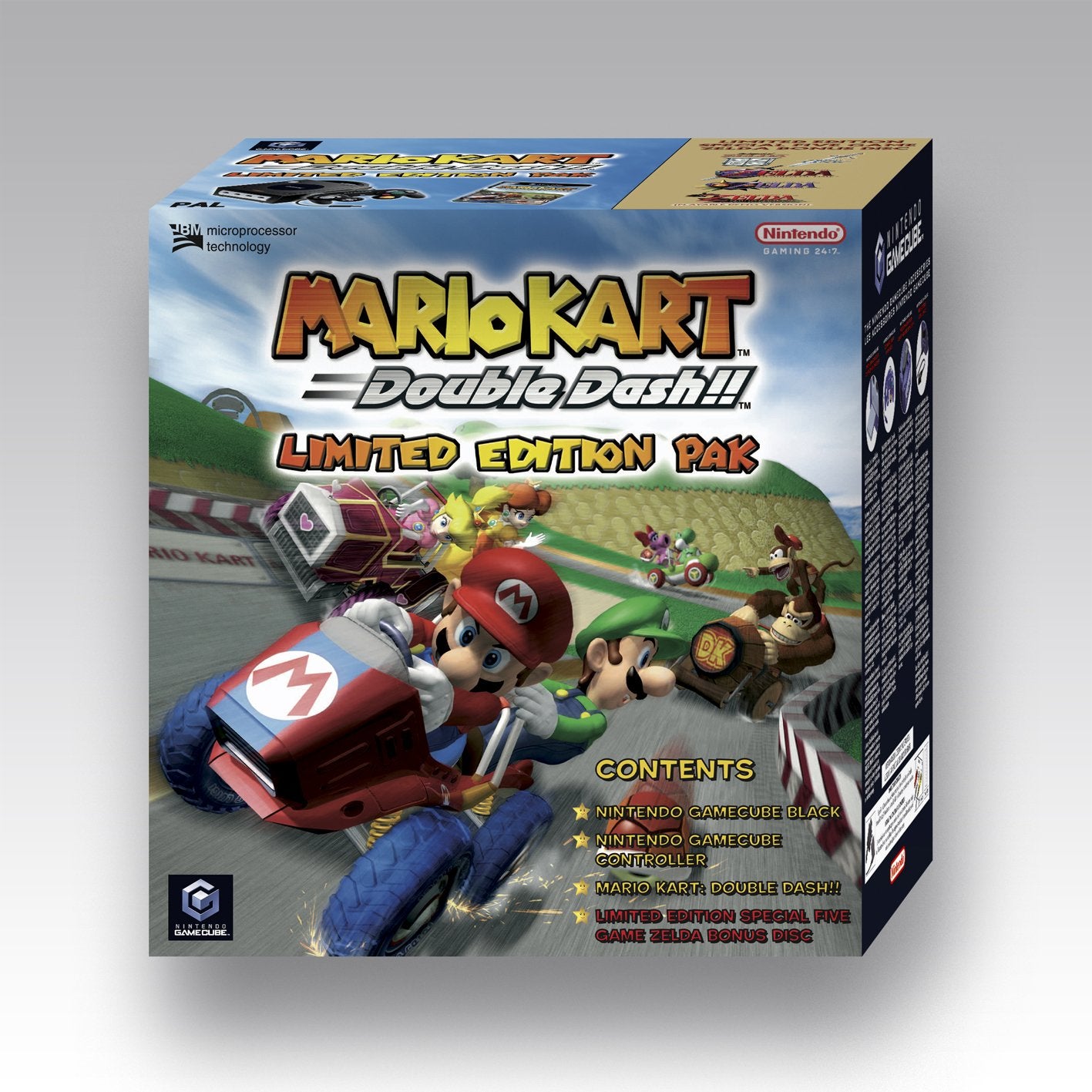 Following Microsoft's recent Xbox bundle initiative, which saw Midtown Madness 3 and a two-month Xbox Live subscription voucher join Halo in a £139.99 console bundle, Nintendo has hit back with a deal of its own, bundling triple-A Christmas hopeful Mario Kart: Double Dash!! and an exclusive Zelda Collector's Edition disc with the diminutive console for just £99 / €149 from November 14th.
Mario Kart: Double Dash is already winning critical plaudits, with many print magazines doling out top honours for the racing series' GameCube debut, and Eurogamer awarding it 9/10 in a massive review this morning.
However the crowning feature of the bundle for many fans will be The Legend of Zelda: Collector's Edition disc, which aims to build on the success Nintendo's original Zelda promotional disc by bundling two of Link's original NES adventures (The Legend of Zelda and The Adventure of Link) with both N64 incarnations (Ocarina of Time and Majora's Mask) and a one-level demo of GameCube update The Wind Waker. It is not though that the disc will be made available elsewhere.
Nintendo will be hoping that the limited edition bundle will help drive Cube sales back above those of its closest rival the Xbox, which it overtook briefly following the recent launch and widespread advertising of a £79.99 price point, only to sink back again following the Xbox's reactionary bundle deal.
Indeed, the move may even force Microsoft to introduce a new price point for Xbox, which currently sells on its own for £129.99 - £50 more than the GameCube and just £10 less than the PS2, which continues to rocket off the shelves in spite of everything. Microsoft had been planning a price cut prior to its X03 event in Nice, but eventually shelved the idea in favour of the bundle deal, a move which seems to have been paying off so far.