New real-money Xbox dash raises game prices
UPDATE: Microsoft claims this is an "unintended error." Will issue refunds. UPDATE: Microsoft is claiming this price increase is an "unintended error" in the Xbox Live beta, and it will issue refunds to those affected.
A final conversion amount has not yet been announced, but it should more accurately reflect the current prices.
Microsoft's full statement is as follows:
"We are aware that select regions experienced some incorrect game title pricing in the Xbox Live beta. This was an unintended error that we are in the process of fixing. We'll be reimbursing impacted beta participants for the difference in what was paid and what the price will be after the update is available to all members."
"More information about the Microsoft Account transition to local currency can be found here."
"Of note, beta programs give us a chance to test, fix and correct issues like this. As with all betas, we take the learnings from our program and make corrections and adjustments prior to the update being available to all members. As always, we appreciate the participation of our beta customers in helping us launch and build great products."
Original Story: The price of games on Xbox Live will go up once the impending, in-beta-testing Xbox 360 dashboard update rolls out.
This update converts existing Microsoft Points into real-world, local currency, and does so the moment you try to buy something, a tipster told us. Unfortunately, beta testers are not warned this will happen.
1200 Microsoft Points converted into real money, however, no longer affords what a previously 1200MSP game now costs.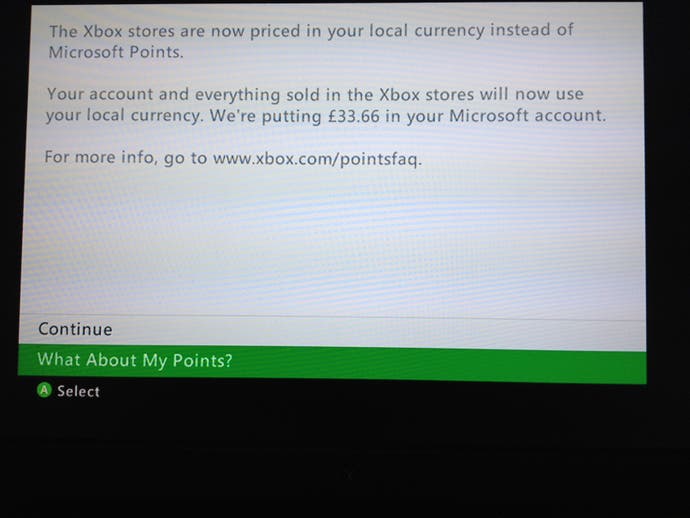 Said our tipster:
1600MSP games are now £14.99; previously this was the equivalent of £13.60
1200 MSP games are now £11.99, previously £10.20
800 MSP games are now £8.99, an even bigger increase - previously this was £6.80
400 MSP games are now £4.49, previously £3.20
As people have pointed out when sharing similar insights on Reddit, for example, this now brings Xbox Live prices in line with those on PSN.
Having your Microsoft Points converted at the existing rate and not in relation to the new prices will no doubt rankle with the community - particularly those who've accrued piles of Microsoft Points in anticipation of the transition, hunting down good deals on store-bought Microsoft Point cards.
Microsoft was unavailable for comment this morning but I'll let you know if I hear anything back.
Do also keep in mind that this is information from beta and not necessarily what will actually definitely positively happen.