Neil Gaiman makes his video game debut with Wayward Manor
From the developer of The Misadventures of P.B. Winterbottom.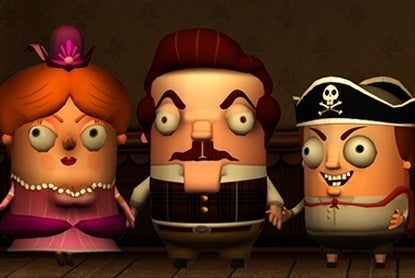 Legendary Sandman and American Gods scribe Neil Gaiman will be making his video game debut with his ghostly adventure Wayward Manor, publisher Moonshark has announced.
Due this autumn on PC, Mac and tablets, Wayward Manor is being developed by The Odd Gentlemen i.e. the studio behind The Misadventures of P.B. Winterbottom and Flea Symphony. It's planned as the first chapter in a multi-part series.
Set in a remote estate in 1920s New England, Wayward Manor follows the exploits of a grumpy ghost who wants to spook his house's new inhabitants away. Doing so means spying on the unwitting buggers and coming up with the best way to freak them out. Along the way our spectral lead will learn more about his own death, the after-life, and some more devious dangers as well.
Prospective players can pre-order Wayward Manor on PC or Mac from the official site for $10 and pre-order customers will gain early access to a song from the game. For $30 you'll get the digital soundtrack, too, and $45 will grant you access to all that plus a digital art book. Super-fans can even grab a purportedly spooky dinner with Gaiman himself if they don't mind parting with $10,000.
Proceeds from pre-orders will allow Gaiman and The Odd Gentlemen to work ahead on the next chapter in the Wayward Manor series.