Need for Speed The Run
Running scared?
How's this for a turn of events? It's 2011, and there's every reason to look forward to this year's Need for Speed game.
EA's racing brand is almost unchallenged - three words that, in the minds of some gamers, are more or less synonymous with 'racing game'. Yet the publisher still came close to wearing it out in the late 2000s with half a decade of derivative and occasionally risible street-tough tuner dramas.
But then came an experiment, in the form of the free-to-play Need for Speed World and Slightly Mad's credible semi-sim, Shift. And last year, salvation: with Hot Pursuit, arcade king Criterion arrived and blended its Burnout heritage with the open roads and lascivious licensed supercars of vintage NFS.
This year, with Need for Speed The Run, the series is back in the calloused hands of Black Box, which released no less than seven Need for Speed games between 2002 and 2008 and presided over the series' ignominious slide through Carbon, ProStreet and Undercover.
But this time the hardworking Canadian outfit has been given an unprecedented two and a half years to complete its work. Could The Run see the return of a refreshed studio - the same Black Box that brought us 2005's Most Wanted, the high point of its own run on NFS?
It's certainly come up with an appealing concept. The title refers to an illicit coast-to-coast race across the continental United States from San Francisco to New York. It's the stuff of Gumball Rally or Cannonball Run dreams, an epic point-to-point charge against a field of 150 rivals, taking in city streets and swooping scenery.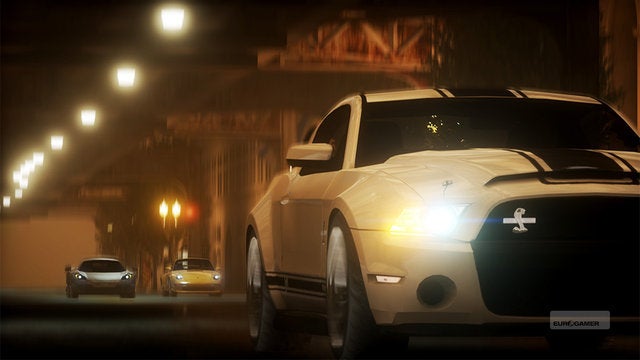 "Think of that race across the States, think of all the cool locations you could go to. We're hitting a lot of those," says producer Alex Grimbley when I chat to him at EA's bustling stand during E3.
It's an interesting move for a series which has been associated with open-world designs in recent years - but many will welcome the open-road spirit, not to mention the exclusive focus on point-to-point rather than circuit racing along its 325 kilometres of road. It also dovetails enticingly with Autolog, the friend-tracking leaderboard system that introduced the welcome spice of offline rivalry to Hot Pursuit.
Forza Motorsport studio Turn 10 quips that Criterion didn't invent leaderboards, and it was probably the late Bizarre Creations that was first to understand the primary importance of friends-only boards. But Autolog's deep integration of time-trial competition in single-player was the fullest acknowledgement yet of what racing games fans really care about and how they actually play (a ball dropped by Forza 3 in particular).
So Autolog monitoring your friends' aggregate times over the whole coast-to-coast itinerary of The Run makes perfect sense. The single-player journey of this "action racer" and its multiplayer component are as one. "Maybe you beat the AI to New York, but did you beat your friends?" says Grimbley. "It would be really compelling if your friend got to Chicago 10 minutes quicker than you did."
More encouragement comes in the form of the announcement that The Run will be the second game, after DICE's super-shooter Battlefield 3, to use the Swedish studio's remarkable Frostbite 2.0 game engine. Not often do racing games, let alone Need for Speed, find themselves at the cutting edge of graphics technology.
Most eye-catching of all, The Run wants to tell you a story. This, we're promised, will be more than a race; it will be a spectacular Hollywood drama, with action set-pieces and a new humanity inherent in sections where you leave the car and travel on foot.
EA and Black Box aren't saying much about this story. Our hero is called, excitingly, Jack. He is being pursed by "cops" and "the mob". There is "a reason" for this, as well as "a reason" he has to get to New York as fast as he can. (Who wants to bet against his girlfriend being kidnapped? Thought not.)
Pre-E3 rumours about on-foot sections combined with the Frostbite announcement led certain excitable minds at Eurogamer (mine included) to speculate about Mirror's Edge-style first-person free-running interludes. With its concentration on efficient movement lines and smooth execution, this kind of action would be the perfect companion for tarmac racing, wouldn't it?
Will you support Eurogamer?
We want to make Eurogamer better, and that means better for our readers - not for algorithms. You can help! Become a supporter of Eurogamer and you can view the site completely ad-free, as well as gaining exclusive access to articles, podcasts and conversations that will bring you closer to the team, the stories, and the games we all love. Subscriptions start at £3.99 / $4.99 per month.