Nearly-finished Deus Ex Machina sequel starring Christopher Lee seeks Kickstarter help
"Sperms, cops, killer ducks, naughty bits, zimmer frames..."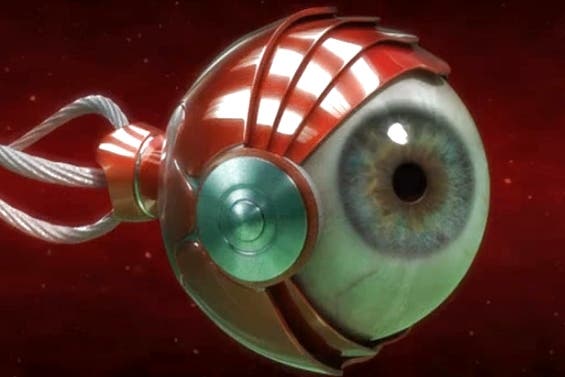 Deus Ex Machina 2, the sequel to a weird 1984 game-slash-piece-of-art, needs a bit of help on Kickstarter to get it out the door.
Mel Croucher, creator of the original, needs £64,000 to tidy up the game and soundtrack as well as make iOS and Android versions. The bulk of the work is already done, though, including recording the Hollywood voice of Christopher "Saruman" Lee, who plays The Narrator.
"Imagine if your life was nothing more than some electronic game," the blurb reads. "Imagine if you knew then what you know now. Imagine if you could replay your little life all over again.
"Battle your way to the womb, fertilize that egg, navigate the birth canal to get born, then focus, crawl, stand, balance, run, jump, learn and obey! Battle the hairs and zits of adolescence. Discover pleasure, love, pain, guilt and betrayal. Mess around, run away, hide out, suffer under, heal up, sell off, struggle through, knuckle down, tip over, cave in, dance on! Exploit your power, peddle your guilt, bust your body, embrace your decline, swallow your pills, lose your mind, dream your dreams and fly!
"Sperms, cops, killer ducks, naughty bits, zimmer frames, hallicinogenic eyewear, dead mice, dementia, hermaphrodites, land mines, war crimes, neurons, morons, rock stars, and the greatest voice on the planet as your Narrator."
Deus Ex Machina was an interactive movie and rock music album back in 1984, and was revered for its artistic achievement. Alongside Christopher Lee there will be the remixed voice of the late, great Ian Dury, plus the vocals of Chyna Whyne, Chris Madin, Joaquim de Almeida (Ramon Salazar in 24!), Mary Carew and Sulene Fleming.
There are stretch goals to shoot a making-of movie, and if the money really floods in and breaches the £1 million mark, then a live concert featuring the celebrity artists will become reality.