NBA Ballers: Chosen One
Ballin' outta control.
"He threw his balls between her legs like he was playin' for the Globetrotters," rapped basketball fan and one half of The Bosshog Barbarians, J-Zone, on "Spoiled Rotton". Which is just my way of catching your attention with a sexist lyric in the hope of attracting you to a review of an average-at-best basketball game.
EA's NBA Live and 2K Sports' NBA 2K series have got the basketball market sewn up, quite simply. Just for good measure add EA's NBA Street series - the arcade champ - and if you're a serious basketball fan you've got all you need to binge on the sport. Which leaves Midway's NBA Ballers: Chosen One in that void where average sports games go to limp across hard concrete, playing with flat-as-a-fart balls and wearing cast-off shorts where if you sit down in them they ride up and reveal a wizened old gonad.
It starts off well - quick edits of some high roller stepping out of his helicopter onto the roof of a penthouse, homies and homettes hollering at their boy, and Just Blaze scratching the hell out of "Head Crack". Presentation is one of Chosen One's strongest points, with the meat of the game - Story mode - linked by TV show snippets hosted by rap legend Chuck D. All the right ingredients are certainly in place as players are invited to create their character, with a ridiculous amount of choice on offer. I'm all for customisation, but honestly, asking me to tweak nostril width and chin height is taking it too far. What next, schlong girth and number of elbow calluses?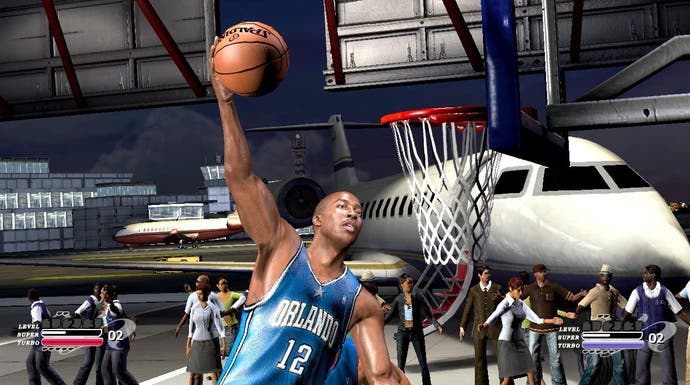 Story mode proper is split into six episodes with five chapters in each, and concerns your boy as he tries to become the chosen one in a street competition. Obviously, no one plays a sports game for the story, but I'm willing to put up with it, and I welcome a new way of presenting challenges if it's done well. Unfortunately it all falls apart on the court.
Repetition is a big problem. The majority of the game is one-on-one play with small variations to the scoring, or the player will be charged with pulling off a specific special move. Variety supposedly comes from the 80-odd NBA players and range of moves - blocking and stealing - and Shut 'Em Down moves and combos that are meant to deliver a slick, cocky arcade show.
Granted, bouncing the ball off your opponent's head never gets old, nor does passing the ball to a spectator in the audience for them to throw it back before you pull an alley oop, leaving you grinning like a twat. And simply slamming a dunk feels right, it feels weighty, with the accompanying clattering audio boosting the braggadocious feelings. But controls are clumsy, they don't feel right for an arcade sports game, and a couple of poor design decisions are about as welcome and user-friendly as someone vacuuming in front of the TV.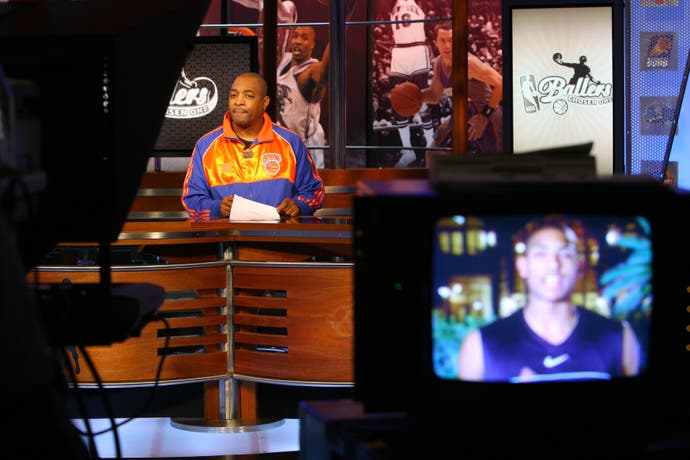 The first of these is quick-time events. I'm not a big fan of these in many games. Maybe God of War got it right where you can watch Kratos pluck eyeballs out as he wrestles a sea-serpent and you hammer a face button, but they don't fit in a sports game when you've already got your hands full with three or four actions on the court even before the QTE begins. Hold down the left bumper and hit X and you're off with three or four on-screen prompts. As the player intimating the action it feels too easy to pluck these moves out of the air, while the defending player, who has to match the same moves, is left fumbling with all the grace of humping a doorknob.