Microsoft unveils more powerful, efficient Surface Pro 2
UPDATE: UK pricing announced Haswell.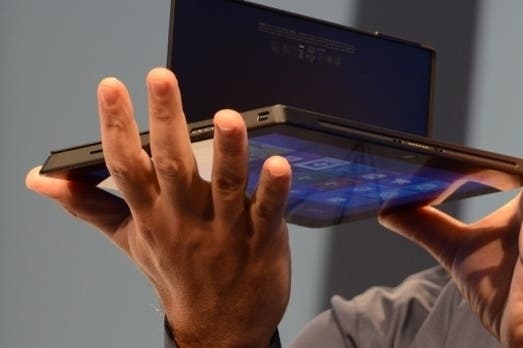 UPDATE #2: Microsoft has now announced UK pricing for its new Surface range (thanks, CNET), which varies from £359 up to £1439 for a 512GB Surface Pro 2.
You'll pay £359 for a 32GB Surface 2, or £439 for a 64GB model.
The 64GB Pro 2 meanwhile costs £719, while the 128GB model costs £799. This is where thing gets pricey. The 256GB Pro 2 costs £1039, and then there's the 512GB version priced at a wallet-busting £1439.
UPDATE: Surface Pro 2 costs $899, Surface 2 costs $449 and Surface RT remains at $349.
A new website explaining the tech has been launched.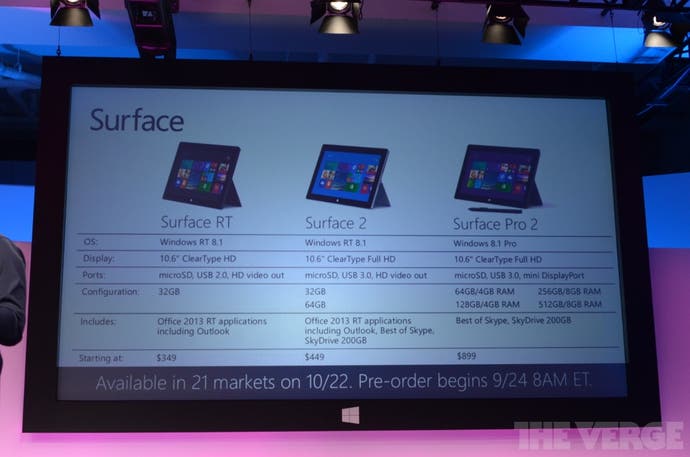 ORIGINAL STORY: Microsoft's first attempt at combining PC games machine, laptop and tablet - the Surface Pro - had shortcomings but also great potential.
Now its successor, Surface Pro 2, has been announced, with a release date of 22nd October.
A new Haswell CPU (the old one had an Ivy Bridge CPU) provides 20 per cent more power and 75 per cent more battery life. There's Dolby speaker tech and an improved - higher colour accuracy - display.
"If you thought it was fast before it is lightning fast now," said Microsoft's Surface chap Panos Panay, according to The Verge. Apparently the Surface Pro 2 is faster than 95 per cent of laptops.
He also said graphics performance had been increased by 50 per cent.
Surface Pro 2 has a new kickstand that props the device up at a steeper 55 degree angle in addition to the existing 22 degree angle.
Two new accessories for the tablet are on the way as well. One is a new docking station with USB ports for a mouse and keyboard and a port for an external monitor. The other is a Power Cover keyboard with its own battery.
Surface Pro 2 will launch with Windows 8.1
Digital Foundry's Ricard Leadbetter had this to say about Microsoft's new machine:
"Surface Pro was a beautiful product and a great first effort from Microsoft, but it was let down by poor battery life, a kickstand that had limited real life functionality, and an OS that did the tablet stuff just fine but failed to migrate key touch-based features into the desktop arena.
"The revamp looks really impressive - Intel's Haswell architecture improves battery life, and there are hints that Microsoft has chosen a higher-end CPU to boost performance too. The purported 50 per cent increase to graphics power sounds too good to be true, but if Microsoft has pulled it off, the tablet becomes quite a cool little gaming machine too and should run a bunch of modern games fairly well. Incorporating additional battery power into the new keyboard peripheral is a good move too.
"I'm not sure if Windows 8.1 will bridge the gap between the tablet and desktop interfaces, and I'm still rather sceptical about the kickstand, but we're clearly one step closer to the idea of being able to take desktop PC levels of power around in an ultra-portable form factor - and I can't wait to test it."
Microsoft also unveiled Surface 2, the non-Pro version. This has the same new screen as the Surface Pro 2 but a Tegra 4 processor instead - the same as Nvidia's Project Shield device. Surface 2 is lighter than Surface 1, has 25 per cent more battery life and the same two-tier kickstand as the Pro 2.
Microsoft's unveiling event is ongoing with live blog coverage on The Verge. We'll update the story with all specs and facts once we've got our head around them.