Latest Humble Bundle includes Papers, Please, Gone Home and Luftrausers
UPDATE: Adds The Bridge, Monaco and Race the Sun.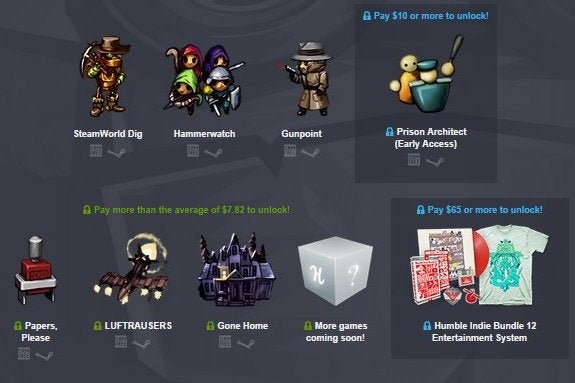 UPDATE 17/09/2014 4.55pm:The Humble Indie Bundle 12 has added The Bridge, Monaco: What's Yours is Mine and Race the Sun to its list of goodies for those who pay more than the average (currently at $7.81).
If you already purchased the bundle at more than the average price you'll still be eligible to download these recent additions.
ORIGINAL STORY 10/09/2014 4.25am: The Humble Indie Bundle 12 has just been released and lets you pay what you want for SteamWorld Dig, Hammerwatch and Gunpoint.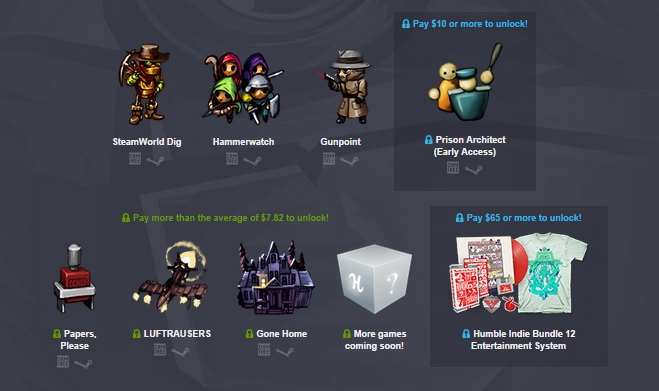 Pay over the average - currently a mere $7.82 - and you'll receive Papers, Please, Gone Home and Luftrausers.
You can also get Early Access to Prison Architect if you pay more than $10.
All games include Steam codes and are available on PC, Mac and Linux.
If you really want to give something back, $65 will get you all of those games in addition to a 30-page issue of Humble Indie Bundle Informer Magazine, two lapel pins of the Humble Bundle logo and Arstotzka Crest from Papers, Please, a HIB 12 Super Shirt, a HIB 12 Shareware 3.5" floppy disk, the HIB 12 EP on vinyl and a collector's box for the entire package.
As with all Humble Indie Bundles, you decide how to divvy your proceeds between the developers, the Humble Bundle organisers, and charity (in this case Child's Play and the Electronic Frontier Foundation).
Humble Indie Bundle 12 runs through 23rd September.