Konami unveils mini TurboGrafx-16 games line-up
UPDATE: Splatterhouse sneaks in.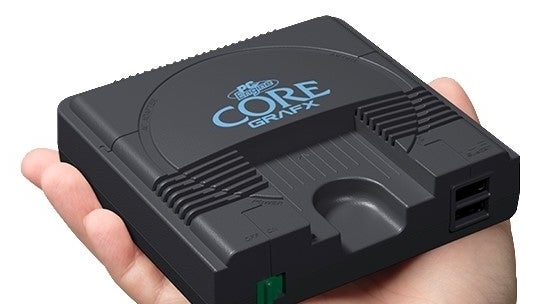 UPDATE 8/8/19: A handful of extra games will sneak onto the TurboGrafx-16 mini (AKA the PC Engine Core Grafx mini here in Europe), including slasher film-inspired beat-'em-up Splatterhouse.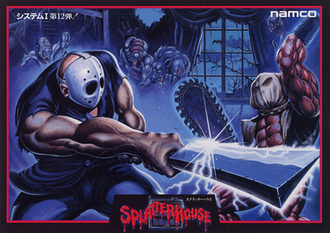 The side-scrolling 1990 classic joins more than 50 other games on the retro microconsole, which launches in March 2020.
It is currently available to pre-order on Amazon - where the retailer lists itself as the exclusive place to buy it in the UK - priced £99.
Half a dozen more Japanese-language games have also been added: Dragon Spirit, Galaga '88, The Genji and the Heike Clans, The Legend of Valkyrie, Seirei Senshi Spriggan, and Spriggan Mark 2. I've added the lot into the list of all games on the device, available at the bottom of the article.
---
ORIGINAL STORY 12/7/19: Konami has detailed a European price, pre-order date and game line-up for the TurboGrafx-16 mini - or to give its official European name, the PC Engine Core Grafx mini.
Due to launch here on 19th March 2020 priced €90, the microconsole will be available to pre-order first via Amazon Prime starting this Monday, 15th July (which is Amazon Prime Day).
Konami has now listed 50 individal titles as being available via the console, although there's a few which overlap between the 24 available in the English TurboGrafx-16 line-up and the 26 PC Engine games available in their original Japanese.
Newly confirmed English language titles include Bomberman '93, Bonk's Revenge and Cadash. The Japanese catalogue, meanwhile, includes Snatcher, Super Darius, Gradius and Gradius 2.
Here's the full rundown of games in a complete list:
English TurboGrax-16 games:
Air Zonk
Alien Crush
Blazing Lazers
Bomberman '93
Bonk's Revenge
Cadash
Chew-Man-Fu
Dungeon Explorer
J.J. & Jeff
Lords Of Thunder
Military Madness (Nectaris)
Moto Roader
Neutopia
Neutopia II
New Adventure Island
Ninjaspirit
Parasol Stars
Power Golf
Psychosis
R-Type
Soldier Blade
Space Harrier
Splatterhouse
Victory Run
Ys Book I&II
Japanese PC Engine games:
Akumajō Dracula X Chi No Rondo (Castlevania: Rondo Of Blood)
Aldynes
Appare! Gateball
Bomberman '94
Bomberman Panic Bomber
Chō Aniki
Daimakaimura (Ghouls 'N' Ghosts)
Dragon Spirit
Dungeon Explorer
Fantasy Zone
Galaga '88
Ginga Fukei Densetsu Sapphire
Gradius (Nemesis)
Gradius II - Gofer No Yabō (Nemesis II)
Jaseiken Necromancer
Nectaris (Military Madness)
Neutopia
Neutopia II
Ninja Ryūkenden (Ninja Gaiden)
PC-Genjin (Bonk)
Salamander
Seirei Senshi Spriggan
Snatcher
Spriggan Mark 2
Star Parodier (Fantasy Star Soldier)
Super Darius
Super Momotarō Dentetsu II
Super Star Soldier
The Genji and the Heike Clans
The Kung Fu (China Warrior)
The Legend of Valkyrie
Ys I&II
Will you support Eurogamer?
We want to make Eurogamer better, and that means better for our readers - not for algorithms. You can help! Become a supporter of Eurogamer and you can view the site completely ad-free, as well as gaining exclusive access to articles, podcasts and conversations that will bring you closer to the team, the stories, and the games we all love. Subscriptions start at £3.99 / $4.99 per month.