Killzone HD on EU PlayStation Store today
007 Legends and Medal of Honor £60 each.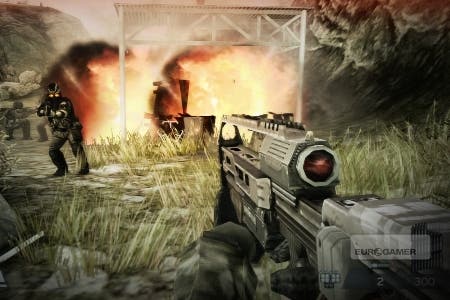 Killzone HD will be available to download on the European PlayStation Store from today, Sony has announced.
The £11.99 download consists of the original PlayStation 2 Killzone, now in HD, ahead of the Killzone Trilogy compilation pack in shops this Friday.
Elsewhere, 007 Legends and Medal of Honor: Warfighter (out Friday) each cost £59.99.
Slightly more affordable is monochromatic puzzle-platformer The Unfinished Swan (£9.99), now available to all after a week's PlayStation Plus exclusivity.
Also notable this week is Dark Souls DLC Artorias of the Abyss, which adds new bosses, maps, enemies, NPCs, weapons and armour. It was previously available on PC as part of the game's accurately-named Prepare To Die Edition.
PlayStation Vita people get Street Fighter X Tekken (£39.99) and Super Monkey Ball: Banana Splitz (£29.99), which Eurogamer's Martin Robinson rolled out a 6/10 score for yesterday.
There's still no Counter Strike: Global Offensive or Retro City Rampage - the latter has a final week to meet SCEE's recent October release date pledge. The former? Well, who knows?
The full line-up of new content is available over on the EU PlayStation blog.