Keiji Inafune's new iOS game J.J. Rockets lets you play as an ass-kicking president
Also announced new zombie game Yaiba.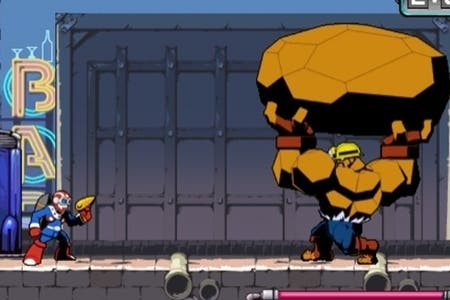 Mega Man creator Keiji Inafune has released a new free mobile game for Marvelous AQL in which you play as a superhero who just so happens to also be the president of the United States, Siliconera reports.
It's not Obama, however, but rather the fictitious J.J. Rockets, who I suspect wins every election simply by bearing the name J.J. Rockets.
According to the report, the game is a side-scrolling action affair and Inafune designed it to be played in short sessions with a three-minute timer for each mission.
J.J. Rockets is already available on Android in Japan provided you have a Mobage account to register. An iOS version is also in the works.
Elsewhere, the famed developer teased a new zombie game entitled Yaiba in the upcoming issue of Famitsu (via Siliconera). According the the magazine, the game's four central concepts are zombie, action, ninja and mecha, and Inafune promises Yaiba will contain elements never before seen in a zombie game.
No platform has been announced, but we should have more information on the game shortly, as the report noted that a full reveal trailer is expected for tomorrow.