Katamari and Canabalt creators collaborate on new game over Kickstarter
Fund LA Game Space and get 30 new games from the creators of Hotline Miami, QWOP, and Adventure Time.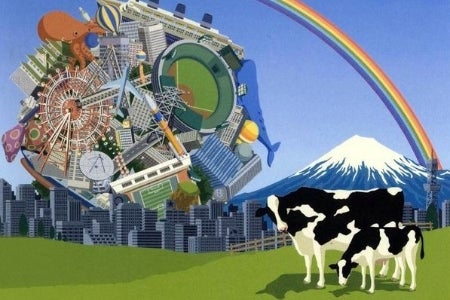 Katamari Damacy mastermind Keita Takahashi is teaming up with Canabalt creator Adam Saltsman to create a new mystery game for PC, Mac and Linux as a reward for those who donate more than $5 to the LA Game Space Kickstarter.
What is the LA Game Space, you ask? Well, the simple answer is it's a space for games in LA (duh), but more specifically it's a warehouse that will be comprised of artist residencies, multiple galleries, research labs, and speaker/workshop sessions. So it's sort of a museum/studio/commune that will focus on highly experimental game projects.
"Our goal is to free residents from limitations they've probably faced in commercial game development," said LA Game Space co-organiser Adam Robezzoli.
Between the speaker sessions and research labs that test things like pulse rate monitoring and face tracking, a lot wisdom should emerge from the joint, which will all be available for free online at archive.org.
Adventure Time creator Pendleton Ward described it as "Like TED talks, for games" in his promo below.
Beyond simply fostering creativity and getting the Takahashi/Saltsman collaboration, there are 30 other Kickstarter exclusive indie games that will be given to those who pledge $15 or more. All will be on PC and Mac, and most will run on Linux.
These won't be your usual run-of-the-mill freebies either, as they're being created by devs who worked on such games as Hotline Miami, QWOP, The Bit.Trip series, The Unfinished Swan, and Fotonica.
Those who pledge $55 or more will get all of the above plus a choice of LA Game Space t-shirts designed by Scott Pilgrim cartoonist Bryan Lee O'Malley and pixel artist eBoy.
The Kickstarter just hits its halfway point and currently has $127,151 pledged of its $250,000 goal with 10 days left before the 7th December deadline.