Joe Danger dev understands PS3 owners' anger
"I used to be a Sony fanboy myself."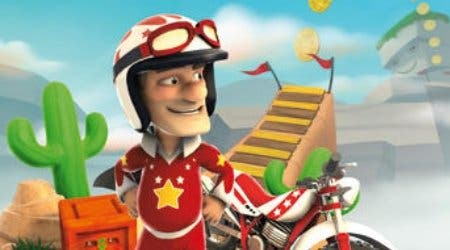 Hello Games' Sean Murray has told Sony fans angered by Joe Danger's arrival on Xbox that he understands where they're coming from.
Yesterday Hello Games announced Joe Danger: Special Edition, an Xbox Live Arcade game due out soon.
It marks the first time a PlayStation Network exclusive has come to Xbox Live, and includes a raft of new features as well as new levels - content that will not be added to the PS3 version.
"It's been so nice to come back to, now we've watched hundreds of thousands of people play through on PS3," Murray said yesterday. "They've been our playtesters for the changes we've made to Special Edition."
"It's always weird when what you perceive is an exclusive title goes to another platform," Murray told Eurogamer in a follow-up interview. "It's part of the culture. I used to be a Sony fanboy myself - not cut me in half and I bleed Sony or anything like that, but just, I quite like the XMB, and telling people, I quite like Blu-rays. That was me.
"But I remember being a kid and f***ing hell, trying talking to me as a kid about anything Sega was doing - no Nintendo! I was probably like that until I was sixteen. And then I played some Sega games and I was like, oh, Crazy Taxi's quite good, isn't it? Through gritted teeth.
"So I do understand. Grant, our artist, he's got this pad from when he was a kid, because he was a Sega fanboy, and he's got drawings he sent into magazines and they were like, this is Sonic feeding Mario into a meat grinder. He used to send them in, and they were totally grotesque. They'd never print them. He didn't know why at the time. This is Mario getting split in half by Sonic with a chainsaw."
Murray said Hello Games got the thumbs up from Microsoft a few months ago, and the indie developer has been working on the XBLA version of Joe Danger ever since.
Its appearance comes as something of a surprise, given Microsoft's policy to reserve the right not to publish games on XBLA that have appeared on other platforms first - as revealed by Eurogamer in August.
Joe Danger: Special Edition is, according to Murray, an exception to this rule, one he hopes will convince Microsoft to change its ways.
"They've been really open with us and have worked directly with us to bring it out," he said. "It's not something that's come up. And actually the content we've added for Joe Danger was our idea to add. It wasn't something forced down our throat. It was stuff we wanted to add, and they would say, that sounds good, rather than you must have at least this much more or whatever.
"My naive hope is that if those things did exist before maybe it's a bit more open now, and this announcement isn't just good news for us, it's good news for other indies as well.
"I certainly know when we dealt with MS before right at the start of Joe Danger when we were originally doing it, compared to dealing with them now we've certainly found a different attitude and more openness.
"It's something we've always wanted to do as developers. People who have come to the Eurogamer Expo a couple of years ago when we first showed Joe Danger, it's always written in the Eurogamer comments, somebody will say, I've played this game two years or three years ago and it was on XBLA. And they will always say XBLA please, because they know it was at some point. That's the way it is.
"Before we managed to find a way to release Joe Danger on PSN, we didn't know what platform we'd be on. We had a PC version, a PS3 version and a 360 version running, and we used to kite them round to shows. It wasn't like it was complete, but it was always there running. We used to say we had the world's rarest game. Joe Danger XBLA had been played by four people in our office.
"Of course, when you're in that situation you want to get it out. It had always been something we talked about with Microsoft every now and then. We'd say, can we do this? And then it was just, yes, you can do it. I don't know whether something has changed, but it certainly seems a bit more open.
"It's helped that Joe Danger has been a really popular game on PSN and has done well for itself."
In July last year Murray hit the headlines after he said Joe Danger was launched on PlayStation Network because Hello Games believed Xbox Live Arcade was a "slaughterhouse" for small developers.
Murray - speaking at Brighton's Develop conference - said nearly half of all XBLA games sell less than 25,000 copies.
Now, over a year later, Murray stands by his point.
"Have you ever said something you really regret?" Murray told Eurogamer. "The truth is, at the time what I was talking about was how difficult it was for indies to stand out on XBLA, how a lot of titles were buried on XBLA. I guess how XBLA wasn't really a golden ticket. I don't think it is. I don't think that's changed. I'm not going to sit here and say to you, oh I don't know what I was saying, I was delirious, much though I'd like to - you wouldn't believe me.
"Obviously a comment like that isn't meant exactly how it sounds. For probably a few years XBLA was basically the only show in town. If you managed to get your game on there it was almost a guarantee of success. I don't think that's the case now. That isn't Microsoft's fault, and it isn't developers' fault. It's just that a hundred games come out there a year, and of those maybe ten break through and make an impact. The rest don't.
"Indies have to be careful of that. But that isn't any better or worse than iPhone. In fact, iPhone is way worse. The difference is you can make an iPhone game in a month. But it requires a lot of work to make an XBLA game. It's the same on PSN, but XBLA has the highest standards for certification. It's a significant cost to bring out a game. If you're going to take that risk you have to make sure your game is awesome and is going to stand out.
"Twelve or fifteen games came out on XBLA this month. Would you know what they are? That isn't a problem with the service. It could easily handle more games. It's just not a golden ticket and at the time people often thought of it like that. They often thought, well all I have to do is get my game out and I don't even have to tell anyone about it. It's going to be on XBLA - it's guaranteed. That hasn't been the case for a while.
"People underrate just how significant XBLA is. Everyone now just talks about iPhone, like it's the get rich quick scheme. But XBLA in terms of revenue of games, like Castle Crashers and Trials, just blows everything else away."
So, now Joe Danger is heading to XBLA, has Microsoft brought up Murray's infamous "slaughterhouse" comment?
"I'm sure they're aware of it. They've been really good about it if they are. The funny thing was, that was actually down at Develop when I was giving a talk after we'd won a few awards the night before. But the very next morning I remember I had a meeting with some quite senior people from Microsoft. I remember them bringing it up at the time then and having a cheeky jibe. Well-deserved from their point of view!"