Japanese beat 'em up Senran Kagura 2: Deep Crimson heads west
Way of the exploding breasts.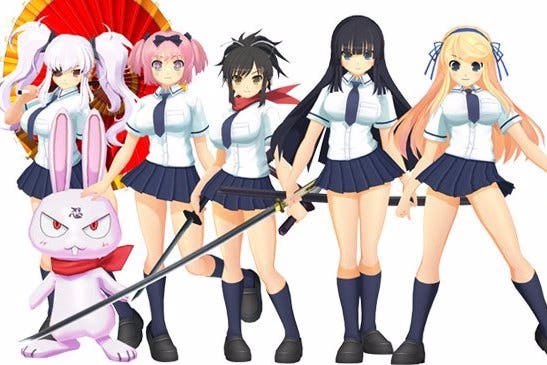 Japanese beat 'em up Senran Kagura 2: Deep Crimson will release in the west.
Tamsoft's Nintendo 3DS game launches on these shores this summer. Publisher Marvelous Europe is responsible.
Senran Kagura is an erotic video game series that revolves around scantily-clad female ninjas whose breasts bounce around on screen. It's big in Japan, where there's an anime adaptation on TV. To give you an idea of what kind of game this is, it features a dressing room in which you can pose the girls in real life environments using the Nintendo 3DS' camera. Cultural divide and all that.
Over here, Senran Kagura remains niche, but that hasn't stopped Marvelous Europe from plotting the release of a variety of physical editions of the game.
There's a £50 "Happy Boobs" edition, which includes a physical copy of the game, two disc official soundtrack, stickers, a poster and a box.
If you're feeling flush, the £75 Shinobi Collector's edition has all that plus an exclusive oppai mouse mat, which features 3D breasts.
Really.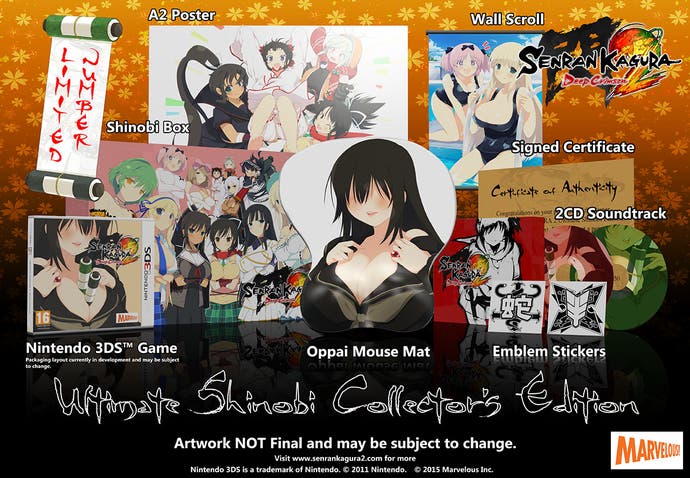 "We know from listening to our fans on Facebook, Twitter and on our forums, that, while many like downloadable games, a lot of them prefer physical product," said Marvelous Europe product manager Jonathan Nevill.
And here's marketing manager Steven Tarry: "Some of the more esoteric titles from Japan don't necessarily sell in the numbers needed to make a big splash at retail.
"But actually, the fans of these games are exactly those who'd love not just a physical release, but a collectable limited edition too. We love digital because we love the direct relationship it gives us with our customers, and we want to deepen that direct relationship with physical products too."
This isn't the first time Nintendo has greenlit the release of a Senran Kagura game on its 3DS in Europe.
The equally problematic Senran Kagura Burst launched here in February 2014, again, courtesy of Marvelous Europe. Here's what designer Kenichiro Takaki said of the game:
"I started to think about what I wanted to see in a game on the Nintendo 3DS and within 30 seconds, I came up with it. It was boobs."