Japan chart: Super Mario 3D Land inspires huge 3DS sales surge
Uncharted 3, Battlefield 3 also do big numbers.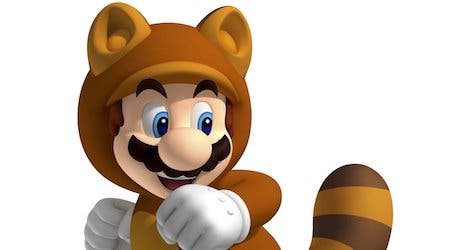 3DS sales were up over 200 per cent in Japan last week, following the launch of Super Mario 3D Land.
The new handheld's first Mario title, out here next week, sold a whopping 343,492 copies in its first four days on sale to take the software crown.
For context, Super Mario Galaxy sold 256,341 in Japan during its first week, while Super Mario Galaxy 2 managed 337,569.
The 3DS itself moved 145,271 units, up from an already very healthy 65,041 last week. With Monster Hunter Tri G, Mario Kart 7 and a new Inazuma Eleven title all due out in Japan in the next month or so, it looks like the 3DS is in for a very fruitful first Christmas.
Elsewhere on the software chart, Uncharted 3 sold an impressive 124,989 in its debut week to take second, only marginally ahead of the PlayStation 3 version of Battlefield 3, which managed 123,379.
The Xbox 360 version of DICE's shooter landed at eight with 27,723 sales.
The other new entries in the top 10 were the PSP SKU of PES 2012 at six and 3DS RPG spin-off Dragon Quest Heroes: Rocket Slime 3 at seven.
Here's the top 20 in full, as seen on Andriasang:
Super Mario 3D Land (Nintendo, 3DS): 343,492 - NEW
Uncharted 3 (Sony, PS3): 124,989 - NEW
Battlefield 3 (EA, PS3): 123,379 - NEW
Final Fantasy Type-0 (Square Enix, PSP): 122,286 (Life to date: 594,540)
Kirby's Adventure (Nintendo, Wii): 55,779 (192,589)
PES 2012 (Konami, PSP): 45,437 - NEW
Dragon Quest Heroes: Rocket Slime 3 (Square Enix, 3DS): 38,859 - NEW
Battlefield 3 (EA, Xbox 360): 27,723 - NEW
Just Dance Wii (Nintendo, Wii): 25,665 (189,116)
Go Vacation (Namco Bandai, Wii): 16,995 (89,463)
PES Play Maker 2012 (Konami, Wii): 14,117 - NEW
Wii Sports Resort Wiiplus Pack (Nintendo, Wii): 12,570 (638,091)
Idolmaster 2 (Namco Bandai, PS3): 10,721 (76,233)
PES 2012 (Konami, PS3): 10,636 (381,156)
PES 2012 (Konami, PS2): 9786 - NEW
AKB1/48 If I Loved an Idol in Guam (Namco Bandai, PSP): 8883 (310,625)
Rhythm Heaven Fever (Nintendo, Wii): 8581 (535,523)
Macross F Sayonara no Tsubasa Hybrid Pack (Namco Bandai, PS3): 8352 (167,700)
Naruto Narutimate Impact (Namco Bandai, PSP): 7144 (72,374)
Model Fashion Audition 2 (Alchemist, 3DS): 6643 - NEW
The 3DS topped the hardware chart by a massive margin, with the PSP at two, PlayStation 3 at three and Wii at four. Uncharted 3 and Battlefield don't seem to have had much effect on hardware numbers. PlayStation 3 sales were only marginally up, at 26,966 compared to 25,217 last week.
3DS: 145,271 (Last week: 65,041)
PSP: 27,952 (30,605)
PlayStation 3: 26,966 (25,217)
Wii: 11,725 (11,784)
DSi XL: 2041 (2009)
Xbox 360: 1699 (1704)
PlayStation 2: 1457 (1228)
DSi: 1057 (1061)
DS Lite: 33 (55)