Call of Duty: Warzone cheaters are using aimbots to headshot new player spawns out of the sky
Cradle to Grau.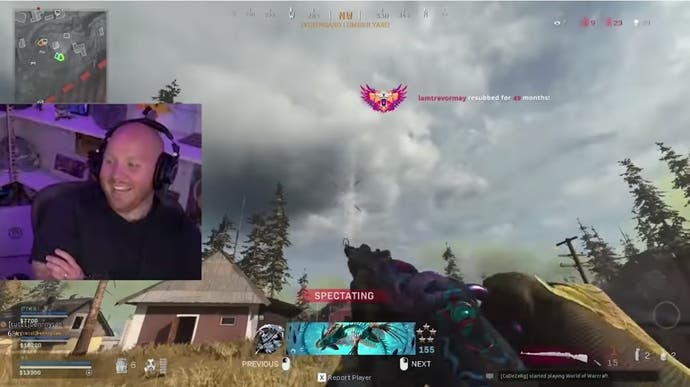 It turns out Call of Duty: Warzone cheaters can headshot new player spawns out of the sky.
Warzone cheating is one again a hot topic within the Call of Duty community after a recent unannounced banwave ended up with some innocents caught in the crossfire.
Despite developer Infinity Ward's best efforts, cheating in the mega-popular battle royale is still significant enough for it to appear often in Call of Duty subreddits, on social media, and during high-profile players' livestreams.
And it's in one of the latter that we find a cheater headshotting new spawns out of the sky - something I didn't know aimbots could do.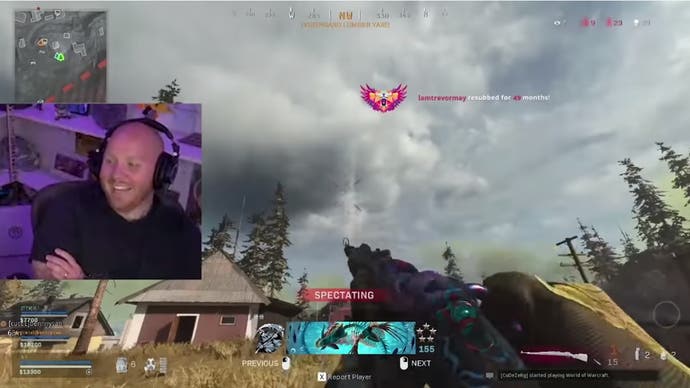 I knew aimbots could help players auto-headshot from incredible distances, even against enemies who do not appear on-screen. But I did not know aimbots could be used to headshot new player spawns who enter the map via parachute - even through the apparent cover of clouds. That's got to be one frustrating way to die.
The remarkable video below shows streamer TimTheTatman die to a Warzone cheater live and then communicate with them after the cheater tuned into the stream (skip to the five minute mark). Somewhat hilariously, the cheater responds to questions by nodding for yes and shaking the camera left to right for no in-game. The cheater claims to have been cheating for six months, which, if true, means they've been cheating in Call of Duty: Modern Warfare even before Warzone came out in March 2020.
It's worth noting the cheater is using the Kar98 marksman rifle with the Damascus skin. The cheater claims to have earned this skin themselves (as opposed to buying an account boost service). This is no small feat. To unlock the Damascus skin, you have to unlock the platinum Platinum camo on every single gun in the game. It takes a long, long time.
So, we have a pretty brazen cheater here, one who indicated to TimTheTatman that they've been cheating for quite a while - and they're not worried about getting banned.
Call of Duty: Modern Warfare and in particular Warzone has had a cheating problem ever since launch, with some console players disabling crossplay in a bid to avoid PC hackers.
Back in May, Infinity Ward enabled two-step SMS authentication for new Warzone PC users who log-in as free-to-play. This was seen as a crucial step in the fight against Warzone cheaters, many of whom would simply create a new account, download the free-to-play Warzone and jump straight back into the action after a ban.
This move came alongside a raft of new security measures from Infinity Ward, including giving those who report suspected cheaters confirmation in-game when a player is banned, and updated matchmaking to match suspected cheaters together.
It was felt this anti-cheat effort made an impact in the free-to-download battle royale, but this month has seen reports of cheating ramp up once again.