Iron Galaxy's latest action game Extinction resembles Attack on Titan
A giant killer.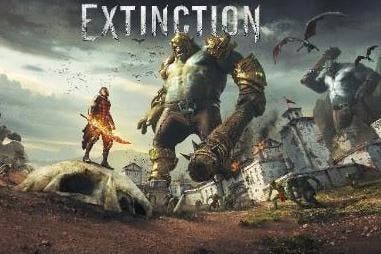 Divekick and Killer Instinct: Season 2 developer Iron Galaxy has revealed its first full-priced retail game, Extinction, and it looks a lot like Attack on Titan.
Set in a fantasy realm, you play the last surviving member of an ancient order tasked with protecting civilization from giant ogres. Doing so involves quite a bit of swinging on grappling hooks and decapitating demons with your sword.
A game like this will live or die based on its traversal and combat mechanics and those will remain shrouded in mystery until Extinction's proper E3 gameplay reveal. Until then we have this teaser trailer promising parkour, swinging and slicing. If you wait until the very end of the trailer you can catch a few seconds of actual gameplay footage teasing a gameplay walkthrough at E3.
What we do know is that Extinction will involve wall-jumping, upgradable skill trees, and fully destructible environments. Publisher Maximum Games noted that outside of the main story campaign you'll have the ability to create custom battle scenarios which you can then challenge your friends with completing.
Additionally, there will be an endless wave mode. Both this and the user-made challenges will come complete with online leaderboards.
"As the protagonist tasked with a huge undertaking - both in fighting enormous ogres and saving humans from disaster - each player's experience will be varied, as the landscapes and battle situations are never identical," said Maximum Games executive producer Derek Neal.
Now the question is: how will it compare to Omega Force's spirited but repetitive Attack on Titan adaptation? Guess we'll find out when Extinction launches in Q1 2018 on PS4, Xbox One and PC.