Insomniac has the last laugh on Spider-Man PS4 "puddlegate"
Splash damage.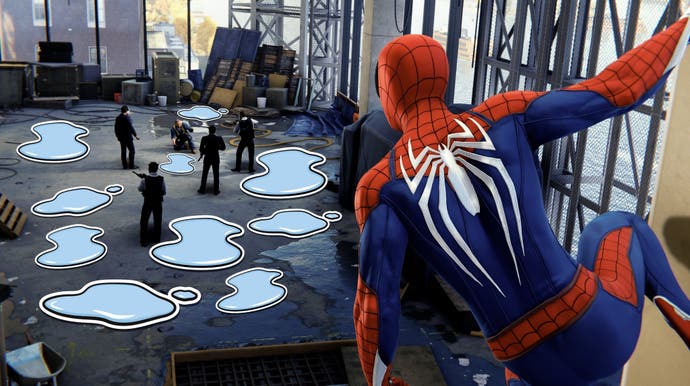 Remember Spider-Man PS4's "puddlegate"? Ahead of the game's release, people got hot under the collar about an adjustment in puddle placement in a scene which sees far less water coverage. There was a kerfuffle but, inevitably, when the game came out and people started playing and enjoying it, the kerfuffle evaporated (Digital Foundry debunked the whole thing, too).
Anyway, puddlegate looked like this (the final game is on the left, an image from the E3 2017 demo is on the right): Now, developer Insomniac has issued a playful fix for Spider-Man's puddlegate: and it comes in the form of puddle stickers.
A new patch went out for the game yesterday that added a new game plus mode as well as new items in photo mode, including stickers and frames and a welcome shortcut for photo mode itself (left on the d-pad).
One of the stickers is a cartoon puddle, which means you can now return to the scene of the crime that sparked puddlegate in the first place and pack it out with puddles of various sizes. There, puddlegate fixed!
Spider-Man players picked up on this and it was later verified by Gil Doron, user interface and user experience lead at Insomniac, in a tweet.
We have a new patch today! Not only do we have NG+, but we added a bunch of stuff in Photo Mode, including:
stickers
frames
rotation for stickers
shortcut to Photo Mode with the D-Pad...
...and I fixed this for you :) pic.twitter.com/SW7Jxrxab6

— Gil Doron (@GilFromUI) October 19, 2018
The upshot of the update, of course, is the prospect of even more impressive snaps from Spider-Man, which is a stunning-looking game that's already got a massive portfolio of user-created photos under its belt. Having the photo mode on the d-pad will make it a lot more accessible in the middle of fights and even combos, so expect some dramatic action shots to emerge.