Cult genital-swinging hit Mount Your Friends gets 3D sequel this month
The full package.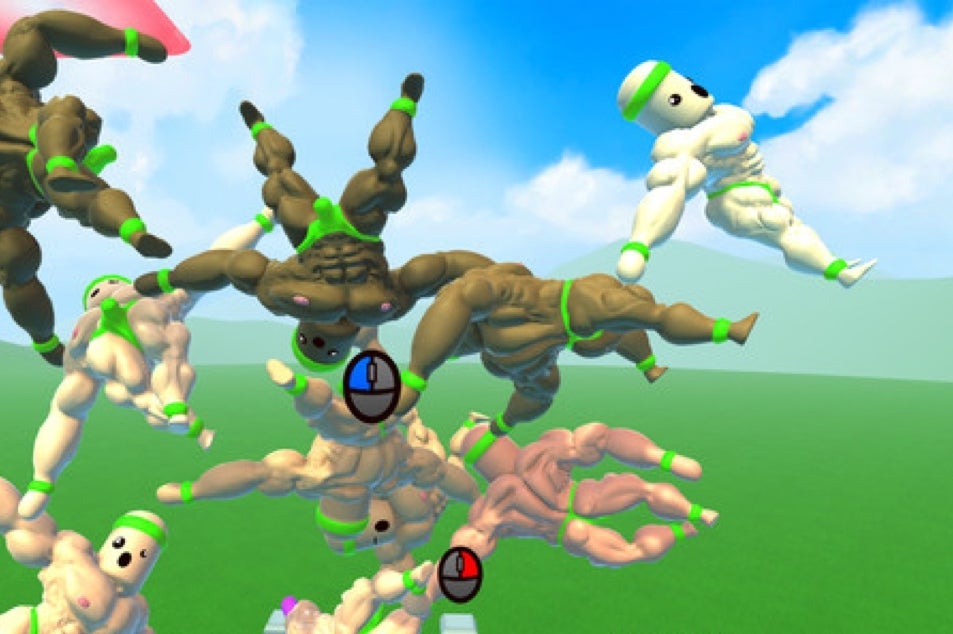 Mount Your Friends - the cult indie hit featuring raucous, physics-based tower building and aggressively pendulous genitals - is making the leap from 2D to 3D on February 23rd, developer Stegersaurus has revealed.
The original Mount Your Friends invited players to clamber up their fellow scantily clad bodybuilder pals to reach as high as they could - sometimes solo, often with friends, and always on the back of a goat. Unifying the whole homoerotic extravaganza was a wilfully awkward control scheme in which climbers were forced to clumsily drag themselves upward one appendage at a time. Oh, and did I mention the hypnotically carefree wangs?
The newly dated Mount Your Friends 3D: A Hard Man is Good to Climb - to give the game its full, awesome name - offers more of the same knockabout multiplayer action. However, this time, thanks to the inevitable march of technology, the cheeky sprites of yesteryear have been replaced by full-on polygonal dongs.
"Compete and climb online or get intimate in local multiplayer. Grunt and sweat it out in 16 different configurations. Climb the goat, and become a master of friend mounting!", says Stegersaurus of its latest vertical endeavour.
Features in the sequel include expanded customisation options, online and local multiplayer, online leaderboards, unlockable stickers, and even the option to take a picture of your face and stick it on your avatar, but only in private matches. I wonder why.
Mount Your Friends 3D is currently only scheduled to release on PC come February 23rd.