Imagine Guitar Hero but in virtual reality and with Lightsabers
Enough to vvvvommm in excitement.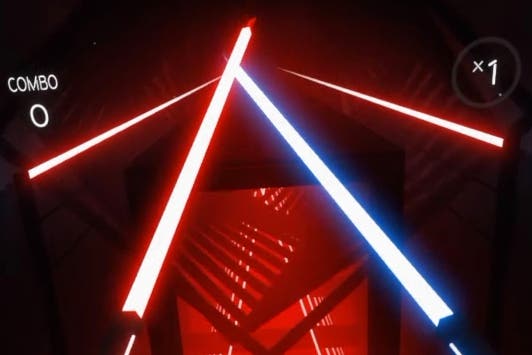 What if instead of using a video game guitar to match blocks streaming towards you on a music highway, you slashed them in virtual reality with Lightsabers?
I'd say yes. Yes bloody please.
Behold, Beat Saber.
Beat Saber is made by Czech developer Hyperbolic Magnetism, the team behind fiendish auto-runner Chameleon Run, and is due Q1 2018 on all three VR headsets: Rift, Vive and PlayStation VR. Presumably you need the motion-sensing controllers to be Lightsabers.
Each oncoming beat-block tells you which hand you need to use and which direction to swipe, and when that beat drops, they come thick and fast. It also looks like you'll need to move your feet in order to dodge walls. The aim, apparently, is to make you "almost dance", the Beat Saber website says. And sweat, presumably.
Beat Saber has been in development since 2016, and will pack a career mode as well as quick play mode when it eventually arrives. Exactly when, and how much it'll cost, I'm trying to find out.