Humble launches the Conquer Covid-19 Bundle to support organisations fighting coronavirus
Featuring over $1000 of games and ebooks for £25/$30.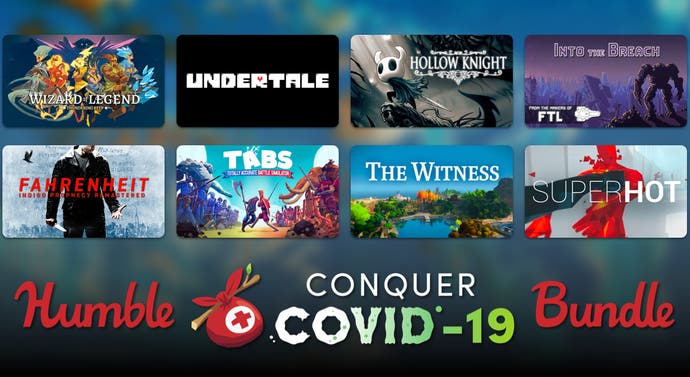 Humble's has launched the Conquer Covid-19 Bundle featuring over $1000 of games and ebooks with all proceeds going to support the efforts of various organisations tackling the global pandemic.
It's a substantial haul, that includes loads of indie hits, classic favourites, insightful learning books and terrific graphic novels. Listing everything here would likely risk breaking your scroll wheel, so I've picked out a few standouts below to give you an idea of what's included. You can check out everything for yourself on the Humble Conquer Covid-19 Bundle page.
In terms of games, highlights easily include ingenious strategy gem Into the Breach, unconventional RPG Undertale, enthralling adventure game Hollow Knight and pensive puzzler The Witness. There's good representation from Darksiders, Jackbox and many classics from Double Fine, too.
As for the ebooks, it's a mix of educational tomes on music creation, programming and self-improvement, alongside notable graphic novels like space opera Saga, twisted superhero tale The Boys and manga classic Fairy Tail.
That'll give you lots to get you through the next few months, then.
All of the money raised from bundle purchases will be used to support a number of organisations that are assisting in the fight against Covid-19. This can include providing protective gear to healthcare workers and assisting in the medical care of infected patients. All massively worthwhile, I'm sure you'll agree.
The Humble Conquer Covid-19 Bundle is available until Tuesday, 7th April.
Note: Eurogamer is a Humble Partner, but does not receive a cut from any sales of this bundle.