Fishing Planet just won best video game trailer of the summer
Oh my COD.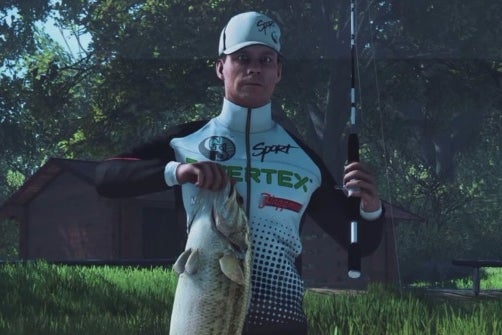 The people behind Fishing Planet had a problem to solve. The game, which has been out on Steam for a couple of years, comes out on PlayStation 4 on 29th August. A trailer was required. But how would they make it interesting? How would they grab the attention of all the console kids busy playing Call of Duty and FIFA.
The answer: like this.
The trailer for Fishing Planet on PS4 has it all: a Christopher Nolan-esque set-up, heavy guitar music that is definitely inappropriate for the on-screen action, slow motion will it or won't it bite fish, and of course thousands of tackle combinations. Activision, are you watching? COD could do with something like this.
There's a lot to love about the Fishing Planet trailer, but my favourite bit is when the dead-eyed fisherman poses for a photo, and the camera pulls back to reveal the photo is now in a frame on the desk in the room of a high-powered city CEO at the top of a skyscraper. It's like saying, if you play Fishing Planet and you catch a fish you're basically Tony Stark. I love it!
The video rekindles memories of one of my favourite video game videos of all time, Farming Simulator Mad Skill. Once more for the road...
I would also like to point out that the company behind Fishing Planet is called Fishing Planet LLC. They've kind of locked themselves into making fishing games forever, haven't they?