How 2014 FIFA World Cup Brazil is justifying its full-fat price tag
After the disappointing UEFA Euro 2012, EA Sports is out to prove a point with its latest tie-in.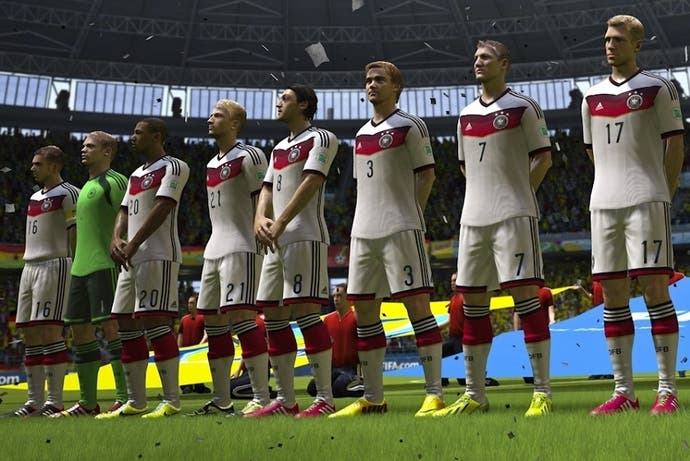 Expectation is always the killer when the World Cup swings around. For England it is, at least, though the near-impossible task of escaping a group that features heavy-hitters Italy and Uruguay means that, for once, hopes for success at the summer's tournament are sensibly muted. On the back of a lacklustre showing with UEFA Euro 2012 - one of the few blots on the otherwise remarkable reputation EA Sports' football series has built up over the past generation - expectations are understandably dim for FIFA's next big ticket tie-in, too. Charging a premium amount for the FIFA 12 tie-in was one thing - only bothering to licence half the teams and not tinkering with the fundamentals in any way was quite another.
2014 FIFA World Cup Brazil - that's the official, slightly mealy-mouthed title that would no doubt have Alan Smith turning his face inside out during any attempt to enunciate it - is going for a different approach. It's a full-priced boxed product, and one that's skipping the new generation of consoles, choosing to stick to Xbox 360 and PlayStation 3. These are hardly going to be the most popular of decisions, but credit where it's due: EA is going out of its way to justify them, and doing as much as you could reasonably expect to make this game earn its full-fat price tag.
There's a laundry list of features being introduced to help state EA's case and, unlike UEFA Euro 2012, the improvements reach right down to the core mechanics. The introductions are topical: close control has been improved, the deft touches of potential tournament poster-boy Neymar the filter through which tweaks have been made. In hand, the improvements are noticeable but slight - the fluidity of animation and control of the Xbox One and PS4 versions of FIFA 14 is approached, if understandably not quite fully reached, but there's still a marked improvement over the PS3 and Xbox 360 iterations.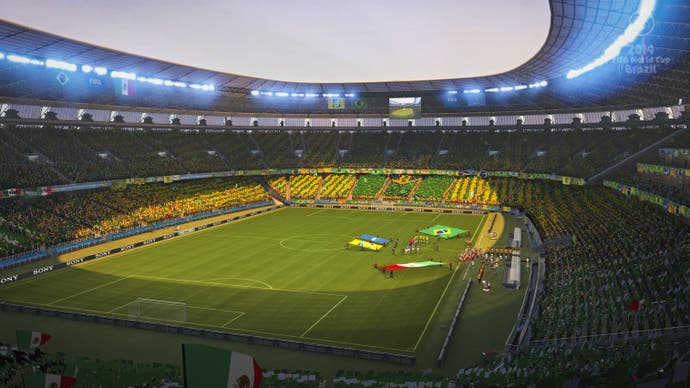 It's a halfway house, somewhat indicative of the situation in which 2014 FIFA World Cup has been produced. A full team, comparable in size to those in charge of the older and newer generation FIFAs, has been working on it for well over a year, and this game straddles both in various places.
"We're an evolution of the gameplay engine," says producer Matt Prior of what's been taken from the newer generation. "The new consoles have more capabilities, but we take stuff where we can... Everything we do is built to make it bigger and better. It's not like we'll just do this for World Cup and throw it away - everything feeds into the series as a whole."
Elsewhere there's a renewed and fitting emphasis on penalties, with the keeper afforded new animations that let the player psyche out the opposition with Grobbelaar-style drunken legs, or with the slightly less effective cute lion routine Joe Hart pulled as England crashed out of the last major tournament. For the penalty-taker, new players are now eased in with a slightly more readable system than that seen in recent FIFAs.
Those newer players are a key part of 2014 FIFA World Cup's focus, as apparently around half of the people who pick up EA Sports' tournament games are new to the series. For the debutant there's a new, lower difficulty level and integrated tutorials for, what Prior says, is "the most accessible FIFA ever made."
For returning players there are the tweaks to the core mechanics and a helping of new modes. It's a hearty helping too, with 10 modes featuring and seven different ways to get your hands on the World Cup. There are returning favourites such as Captain Your Country, where you can take a version of yourself or any existing player that takes your fancy from the reserves through to global glory. There's Road to Rio, which has you taking any of the 203 international teams featured (and yes, they're now all fully licensed) through the regional qualifiers through to the tournament and final itself, a journey that's played out across a colourfully illustrated map in 2014 FIFA World Cup's re-jigged front-end.
The presentation reflects the colourful carnival atmosphere the tournament is striving for, and it goes a little beyond a bright palette swap for the menus. Most of the additions are cute but superfluous: there are occasional cutaways to home nations when goals are scored, showing plastic-skinned fans bouncing up and down in front of giant public screens, while 19 of the managers have been modelled to watch on from the sidelines (as has Sepp Blatter, who approved his own in-game model himself - "we made him look a little lighter in real life, so that greased the wheels," jokes Prior).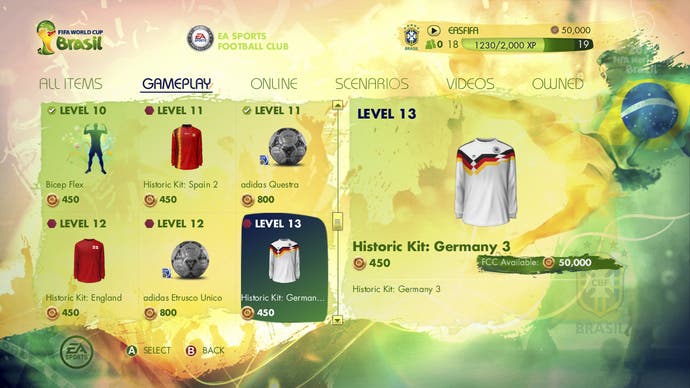 Beyond the streams of confetti, samba beat and peripheral additions (there's now a talk radio show with some 50 hours of content streamed over the front-end, courtesy of Andy Goldstein and Ian Darke, which is thankfully optional) the tournament's reflected in more tangible ways, too. Story of the Finals sees big events from big games during the World Cup being playable as scenarios within the game, and the aim is to have them online an hour after the match in question has finished. It's an impressive measure of how quickly EA can update its game in order to keep it relevant throughout the tournament, an element that obviously extends to the squads themselves - Southampton supremo Luke Shaw wasn't a feature in the demo build, but should things go his way before the summer starts he'll play a starring role in the game once the time comes.
A tie-in like 2014 FIFA World Cup is obviously limited in many ways by its subject matter, and once the tournament's wound down in Brazil its sell-by date will likely have passed - but at least EA Sports has done all it can to make sure that in the months preceding that moment, its new game offers all it can. "That was one of the key things," says Prior. "We wanted to make sure it felt like a feature-rich game and a full product, and in addition to that offer a lot that users can't get in FIFA. As I mentioned, it's kind of a 50/50 split, so we need to cater to both audiences. We need to give value to those people that are coming from FIFA in addition to the brand new users, so we crammed a lot in there."
An authentic and exhaustive interactive memento of what's promising to be a memorable tournament, then, and one that quite possibly exceeds expectations in what it sets out to deliver. There's still one slight reservation about its authenticity, though. England, despite a less than favourable recent run of form and some bleak prospects for the tournament itself, remain a five-star team in the game. Is national pride getting the better of some of the ex-pats like Prior over in EA Vancouver? "Well, the key guy who does all our data collection is actually German. So he'll take every opportunity to reduce us if he can. It's the sum of its parts, really - I think we have got some good players, but..." Prior pauses. "Yeah, maybe it is a bit optimistic."