Here's what a console launch looks like in 2020
A chronicle of my adventures at GAME Brighton.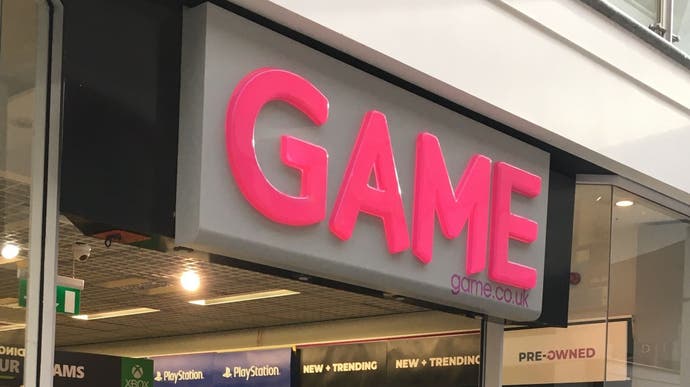 Hand sanitiser, masks, a deserted shopping centre: not things I imagined I would experience at my first in-store console launch. Unless a zombie game was one of the launch titles, perhaps. But this is the reality of the next-gen console launch window in 2020, and with both the Xbox Series X/S and PlayStation 5 launches falling under England's current lockdown rules - meaning non-essential retail stores are closed - collecting a console in-person just became a whole lot weirder.
Today, of course, marks the release of the first of the next-gen consoles, the Xbox Series X/S. Curious about how retailers are handling the situation, at lunchtime I masked up and popped down to GAME Brighton to have a look around.
Before I'd even reached the store itself, the mood felt pretty odd. Firstly, Brighton town centre was eerily quiet for a weekday lunchtime, and particularly so inside Churchill Square Shopping Centre where GAME is located. For the handful of people heading inside, a heavily-marked one-way system had been put in place... and security guards were ready and waiting to politely ask what the hell you were doing there. "I'm looking for GAME click-and-collect," I explained rather sheepishly. I was waved on through, as if I'd passed a speech check.
The inner corridors of the Churchill Square Shopping Centre were almost entirely devoid of people - and by the time I reached GAME, there wasn't a customer in sight. The store was technically closed, and was run by a skeleton crew of only a couple of employees waiting to hand out consoles to those who had pre-ordered with click-and-collect. By about one o'clock when I arrived at the store, it seemed most of the Xboxes had already been collected, with only one covered in packaging and forms sitting in the middle aisle.
The GAME employees at the store had been told not to speak to press, but I took a couple of photos of what the set-up looked like, and it seemed like a fair number of precautions had been taken to ensure the safety of staff and customers. Employees were wearing masks and seemed to be socially distanced, barriers prevented customers from entering the store, and hand sanitiser was available at the entrance. Queue spots had also been marked out for those arriving at opening time to pick up their shiny new console.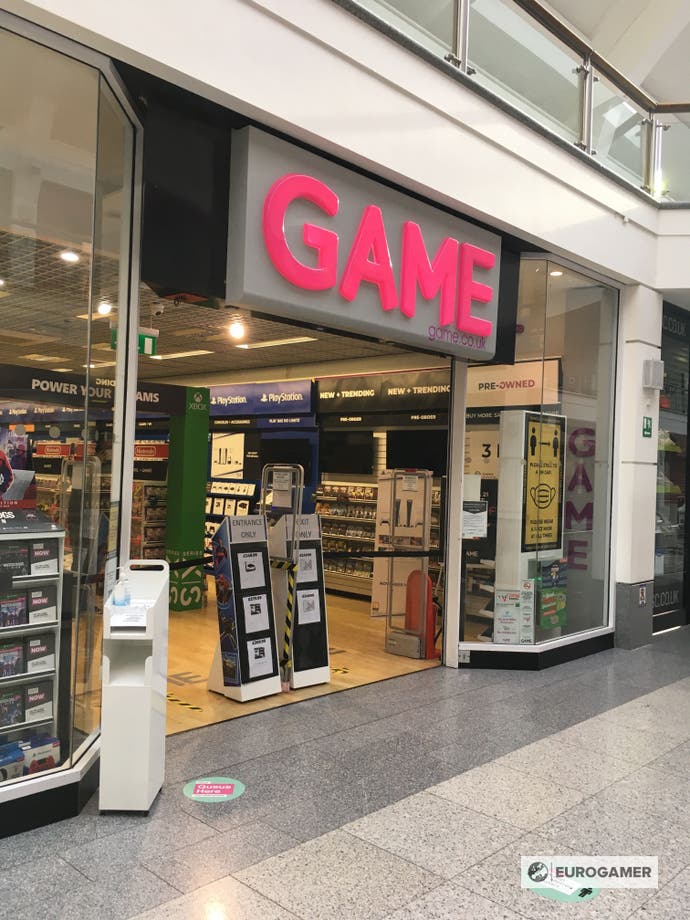 According to a Eurogamer source within GAME elsewhere, online orders are currently going ahead as normal, but customers can only collect consoles on the 10th or 19th November (the same day the consoles launch). No customers are allowed inside on the launch days - with consoles handed out the front door once proof of purchase has been provided. Social distancing and mask wearing is also expected from customers waiting outside. "We do have plenty of PPE and hand sanitiser now so staff should be safe enough," the source said.
Although I couldn't make it in for the early-bird launch time of 8:30am, thankfully I got in touch with someone who did, and his account tallies with the information from our source. Stuart O'Connor picked up his Xbox Series X from the Brighton store when it opened, arriving at around 8am to queue up with "at least 30 people" who were ready and waiting when the doors opened.
"Everyone was wearing masks and socially distancing", O'Connor said. "Everyone in the queue was excited and chatting games. It was a nice atmosphere, security [guards] in Churchill Square were walking the shopping centre but they weren't needed."
"The store opened promptly at 8.30am, all [the] Xboxes were bagged ready to go, it was super quick and well organised," O'Connor added. "We couldn't go in the store, so the GAME team were at the entrance to the shop, handing out the consoles. It was really well organised. I mean it took me all of 30 seconds for them to check my receipt, and hand me my console.
"I've not had an Xbox since 2013 so with Game Pass it's a bit like being a kid in a sweet shop where all the good stuff is free - super excited!", O'Connor said of his new purchase. "Didn't realise the Series X was so heavy though!"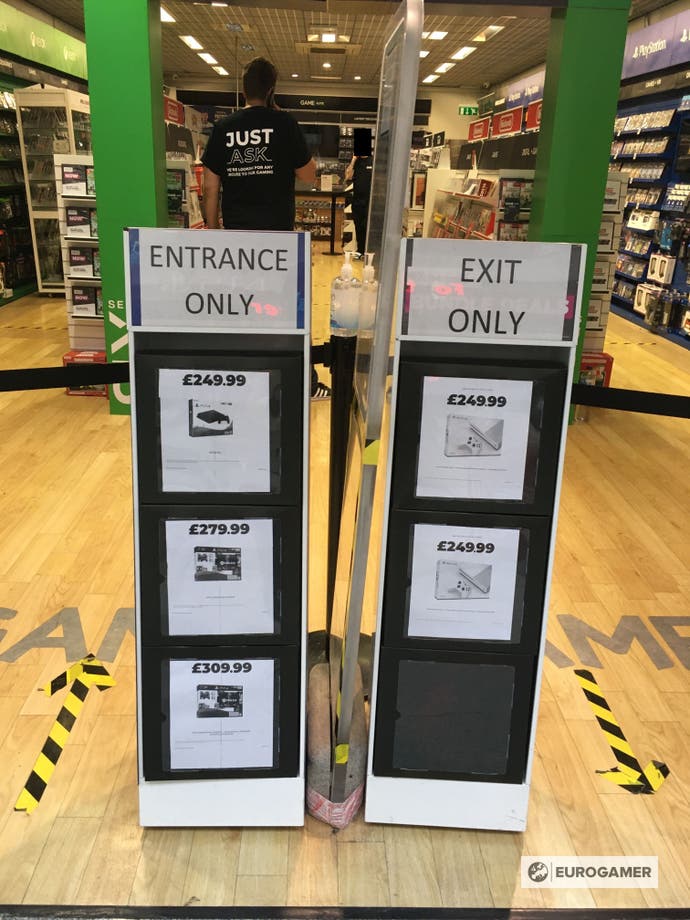 Like other retailers in the UK, GAME briefly had some Xbox Series X/S consoles available to order online today - but it seems those sold out rather quickly, and a number of customers have since complained they were left in a queue on the site without being told the consoles had sold out. If you want to keep an eye on where stock is currently available, make sure to check out our stock availability page - although things are currently looking a little bleak.
And as for the official Microsoft launch celebrations? Nothing could be done in person, of course, so Microsoft got a little creative - opting for a "Greenstown" takeover of Queenstown in New Zealand, a drone display in Germany, and a large glowing Xbox next to St. Paul's in the UK. All of which were linked by a hidden glyph treasure hunt, naturally. It's all been very new-fangled and digital, which is great news for covid safety - but I would, one day, love to experience the silliness of a crowded store on console launch day. See you in seven years.