Ghosts 'N Goblins Resurrection coming to PlayStation, Xbox, and PC in June
Boxer delights.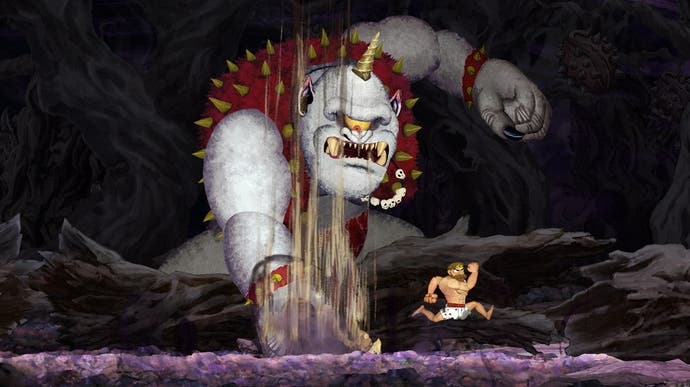 Following its well-received Switch launch, Ghosts 'N Goblins Resurrection - Capcom's striking reboot of the classic 80s platform series - is coming to Xbox, PlayStation, and PC on 1st June.
Ghosts 'N Goblins Resurrection, which launched on Switch in February, takes the side-scrolling, sword-swinging set-up of the 36-year-old arcade original - in which brave knight Arthur and his famed underpants embark on a quest to save princess Prin-Prin from the demon king Astaroth - and imbues it with a new (somewhat divisive) art-style, alongside a range of other additions.
There are new stages - albeit ones drawing inspiration from earlier games - as well as remixed "shadow" variants, new weapons, a two-player co-op mode, plus some welcome accessibility features. Resurrection, like its notoriously challenging forebears, is a tough game but offers some respite in the form of four difficulty levels, adding check points, infinite lives, and more.
"What astonishes me here," wrote Christian Donlan in his Recommended review of the Switch version, "is that this game manages to balance the desires of an expert audience with the fumbling progress of a willing chancer like me. Somehow nobody gets short-changed."
Ghosts 'N Goblins Resurrection, for those brave enough to face its challenges, expands its gnarly fingered reach beyond Switch to PlayStation 4, Xbox One, and Steam on 1st June.