GameStop is drastically simplifying its trade-in values
UPDATE: Now confirmed. Will offer customers more for selling used games.
UPDATE 06/08/2014 9.20pm: GameStop has confirmed the new pricing structure outlined in yesterday's leaked documents. The retailer sent Eurogamer the following statement on the matter:
"GameStop made the decision to simplify the trade-in pricing structure that is part of our buy-sell-trade program based on positive feedback we have received from customers and store managers. We anticipate this change to be well-received by our customers as they experience the added value we are now offering them for their pre-owned video game and consumer electronic products.
"Last year, GameStop issued over $1.2 billion of trade credits with more than 70 per cent of that applied to the purchase of new products. We want to provide our customers the best value for their trade and we believe customers will be pleased with this new simplified pricing."
ORIGINAL STORY 06/08/2014 1.26am:GameStop is allegedly restructuring its trade-in system starting 18th August.
According to a report at Kotaku, a source from the company explained that the retailer is going from a 10-tiered trade-in system to a four-tiered one.
Right now the trade-in value for games is based on the following five criteria:
Is the customer a subscriber to the Power-Up Rewards Program?
Do they want cash or in-store credit?
Are they putting their trade-in towards a select pre-order?
Is there another promotion they're taking part in?
Do they have a 10 per cent off coupon from GameInformer?
That's quite a mouthful to explain to a customer who just wants to know how much they can get for their year old copy of BioShock Infinite. So instead, GameStop is overhauling the trade-in program to consist of only the top two criteria.
This hand-dandy chart explains it all: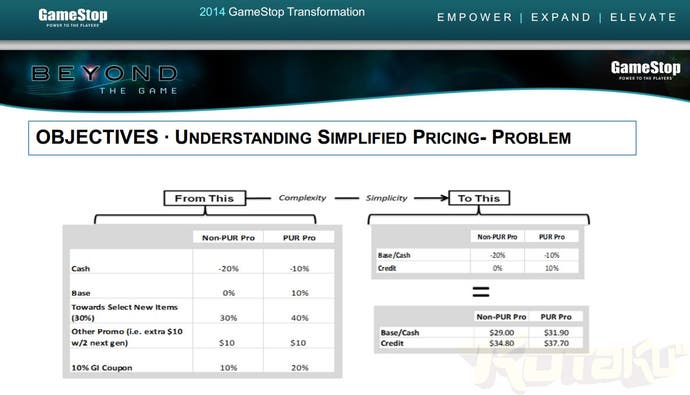 Not only will this minimalist trade-in system be easier to understand, but GameStop is also increasing the base value players get for their trade-ins.
"Our average trade ranges from $7 to $14 with a base of $9. We are elevating the average base value up 20 per cent or up to $11," GameStop explained in another leaked document, referred to as the "elevator speech".
"The value we give customers for their products is not understood and associates have a hard time communicating this due to the complexity of multiple trade promotions," the memo explained.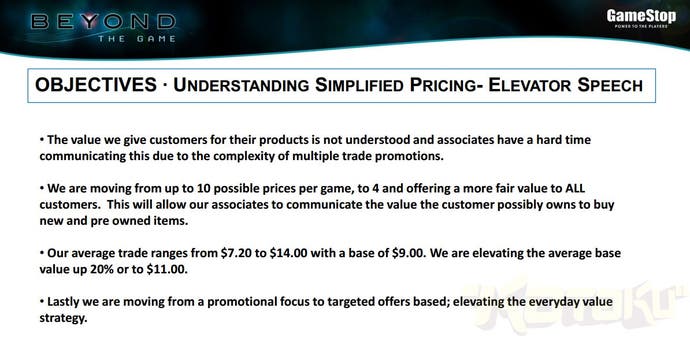 Kotaku's report also noted that the chain is phasing out the term "trade in" in lieu of the more easily understood "buy" and "sell."
According to another leaked document obtained, the retailer admitted that "two-thirds of our customers don't understand what 'Trade In' means." As such, the employee handbook is being rewritten with slightly different syntax to make things less confusing.
"Getting the customer to remember the last thing they hear from your team member is that what they have at home can be used as currency to buy goods in your store is the biggest take away," GameStop said in the leaked memo. For more on how GameStop's rewriting the inevitably awkward sales pitch, Kotaku has the full missive.
We've contacted GameStop to confirm all this new info and we'll update should we find out more.