GameStop closes Northern Ireland stores
All "part of the plan" to transfer business online.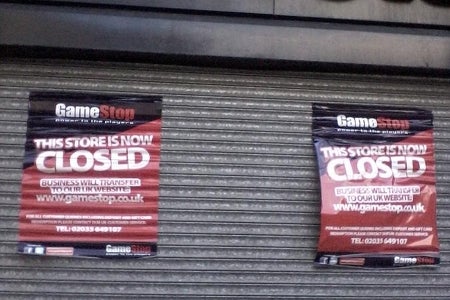 GameStop shops in Northern Ireland have closed, as the company continues transferring all UK business online to the GameStop website.
Pictures of closed GameStation stores in Northern Ireland were taken at the weekend (and posted on TheGamingLiberty). Apparently staff were told on Sunday.
"We are transferring all of our UK business online to www.gamestop.co.uk," read a post by GameStop UK on Facebook. "We will honour all outstanding deposits and gift cards on www.gamestop.co.uk please contact - help@gamestop.co.uk for further assistance. Have a lovely day!"
Stores in the Republic of Ireland are "not affected at this time", GameStop regional boss Michael Finucane explained to MCV.
"The recent store closures in Northern Ireland are part of our plan, announced six months ago, to exit the UK market from a brick and mortar perspective.
"We started this process last year closing our Birmingham, Stockport and Belfast locations.
"Our go-forward plan," he added, "is to serve the UK market with enhanced digital and online offerings."
Finucane said the GameStop website business had experience "tremendous sales growth".