GameGadget 2.0 and GameGadget Pocket promised
And revised GameGadget 1 hardware in November.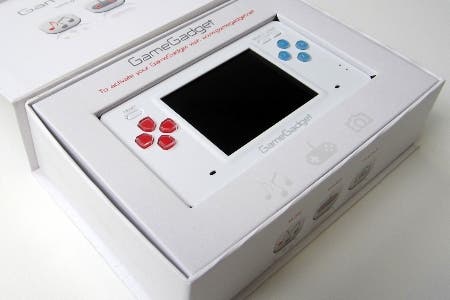 There's new GameGadget hardware imminent, a spokesperson for the company has told me.
The first of three hardware revisions, GameGadget version 1.1, will be released on 14th November for £39.99. 10 Mega Drive games will be thrown in.
Version 1.1 has a screen from a different supplier and altered battery circuitry - both were problems with the original GameGadget.
GameGadget Pocket, hardware revision number two, will be released in Q1 2013. It's a smaller version of the GameGadget. No price was mentioned.
GameGadget 2.0 will be released in Q2 2013 for £60. This will have upgraded internal components.
It's an eye-opening turn of events for a handheld business many thought dead in the water.
GameGadget, a £60 (once £100) handheld device with a download store, launched in April. It promised publishers a secure way to sell their old games for a quid or two; it a way to monetise what emulators have long offered for free.
But the pitch fell apart when only Sega signed up. And a flimsy build quality didn't help, as Eurogamer's review of GameGadget pointed out.
The broken promises prompted me to investigate the GameGadget and whether it had been left out to die. My investigation was published in tandem with this news story.