GAME apologises for unfulfilled £150 PS4 bundle orders
"Due to unprecedented demand, this product sold out online extremely quickly."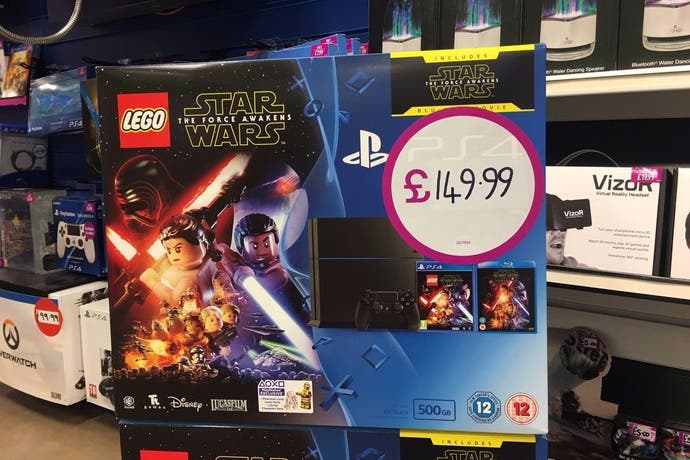 GAME has apologised for unfulfilled £150 PlayStation 4 bundle orders.

Last week some UK shops sold original PS4s for £149.99 and threw in a few games and extras, too.

One of the eye-catching bundles included a PS4, FIFA 17 and a Now TV pass, sold by GAME online for just £150.

As you can imagine, shops were inundated with orders, and it looks like GAME buckled under the pressure.

https://twitter.com/GAMEMerryHill/status/781427265217372160

Over the weekend, Eurogamer was contacted by a raft of disgruntled customers who were refunded by GAME after forking out for a PS4.

One, Nick from Chester, told me he went with GAME online despite nearby shops selling the £150 bundles in-store.

"While most places were running out of stock, the Tesco in Chester were still reporting stock, so I could have driven there to get one," he said.

"I didn't because GAME seemed like the easier option.

"Then a day and a half later they welched on my order. I want a PS4 so GAME have cost me £100 and I'm not happy."

GAME has sent out emails to those affected and apologised for the kerfuffle. While it's refunding money spent, it's letting customers keep the Now TV three month subscription free of charge and handing out a £20 off voucher code against its £249.99 PS4 slim 500GB console bundle, which includes FIFA 17 and a three month Now TV pass. There's also a free copy of Uncharted 4 thrown in for those who buy the bundle.

GAME issued Eurogamer the following statement:

"Unfortunately due to unprecedented demand, the PS4 Bundle containing FIFA 17 and a Now TV pass sold out extremely quickly and we were unable to fulfil a number of orders.

"We'd like to apologise to customers affected and will be refunding orders in full. Any reward points used will be automatically credited back to accounts and customers will also keep the Now TV three month subscription free of charge. The bundle will not be available to purchase in the future."

Did you manage to successfully order one of the £150 PS4s? Let me know in the comments.