Furi dev's gorgeous romantic space adventure Haven gets first gameplay trailer
Coming to PC, PS4, and Switch next year.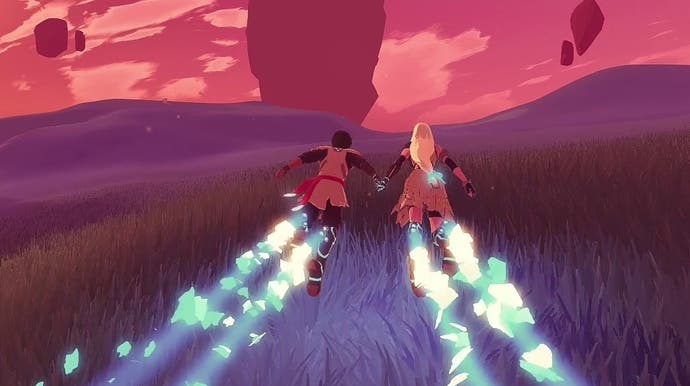 Furi developer The Game Bakers has shared the first gameplay trailer, and offered new details, for its gorgeous, romantically inclined space adventure, Haven.
Described as game "about everyday love, rebelling against the rules and also, food", Haven follows the tribulation of a pair of lovers - Yu and Kay - as they attempt to survive on a lost planet. It's a solo experience "at its core", but co-op is both supported and encouraged, with Haven's Steam page suggesting that players might wish to play the game "with a special someone".
When we last saw Haven, in an early tease, details were rather light, and it was left to the game's striking visuals and glorious music to impress.
Now though, alongside the first proper gameplay trailer, which you can see below, The Game Bakers have shared a smidgeon more information, calling Haven an "accessible RPG" that's also a "story-rich adventure" (dialogue choices may apparently have long-term consequences), and likening it to the "lovechild of Journey meets Persona".
"As with Furi [the developer's gloriously psychedelic arcade boss-rush adventure]," explains creative director Emeric Thoa, "we tried to make a game that you have never experienced before. The story of a couple fighting for their freedom, an established relationship: what love looks like when you've moved past the early seduction phase, when you can be your true self with one another... I don't think that's been done much in video games."
Alongside exploration, Haven will feature an "innovative" combat system in which both characters can be controlled at the same time.
"It's not turn-based, but not completely real time either", explains Thoa in a new blog post, "You load orders for each character by holding buttons, and they launch their action when you release. It requires tactic and synchronisation to either chain attacks or combine them. There's no real stress to execute the orders with speed, but there is a sensual rhythm to the combat."
Haven is scheduled to launch next year on PC, PlayStation 4 and Switch, although "the complete platforms plan is not final".