Free WMD rickshaw for Just Cause 2
Pre-order goodies now available too.
Just Cause 2 owners can download a free vehicle today or spend money to access a few goodies that used to be pre-order incentives.
The new vehicle, pictured below, is called the Tuk Tuk Boom Boom. Yes. Apparently it's available for PC, PS3 and Xbox 360.
"Pimped-out and pumped-up, this auto-rickshaw rolls with style, grace and a roof-mounted weapon of mass destruction," apparently. BOOM.
It's got reinforced shields, an armoured windscreen and "quad front-mounted air horns", for her pleasure.
So that's free. Rico's Signature Gun, the Bull's Eye Assault Rifle and the Chevalier Classic limousine, however, are 80 Microsoft Points (£0.68 / €0.96) apiece.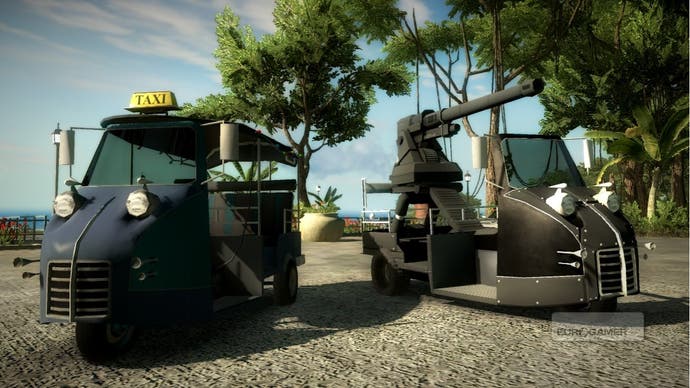 Just Cause 2's previous downloadable packs were the Black Market Aerial Pack and Black Market Boom Pack, which were 160 MSP / €1.99 each and introduced planes and weapons.
Not bothered with Just Cause 2? You should. It's got some amazingly shonky third-person shooter mechanics, but it's an enormous amount of fun aside from that. Check out our Just Cause 2 review or watch some of it in action below.